All I can say about tonight, is that when I saw
this
, I couldn't NOT make it! So yum, so easy, so perfect! The way she describes it just made me swoon. And the way she talks about the goodness and equally the badness of garlic bread just spoke to me. Besides, I had all of the ingredients to make it.
(Remember that I cannot buy any groceries until the week of Thanksgiving.)
We decided to make this tonight. I, as I cannot follow directions, did not follow her folding directions. Everything else was followed to a "T."
For the shapes I used, I called unto my past. When I was in highschool, I worked at Subway. It was there that I learned the fine art of "braiding" bread. I surprised even myself when I pulled this long lost talent right out of my behind.
The "knots" are inspired by the garlic knots served up by the local pizza delivery joint, Zitos. They have parm on them, and therefore I cannot eat them. So I made my own. The spirals? Why not?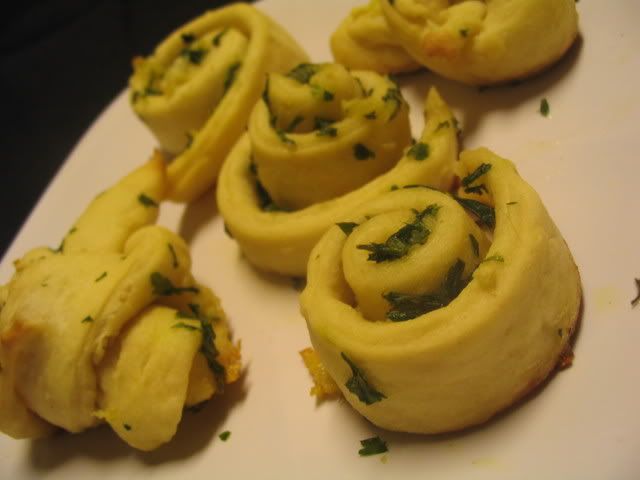 Today I worked. I forgot to pack a lunch (I had to be at work by 6am so my brain wasn't quite awake yet) and therefore had to buy lunch. I am not sure this counts as a violation of the great grocery experiment or not. I drank some coffee for breakfast with some vanilla soy creamer. For lunch it was a "Gardener's Wrap" and Have'a Chips from Wild Oats, and for dinner I had the above mentioned garlic bread. Yes, I had garlic bread for dinner. In conjunction with some soymilk and generic Kahlua. Lots of it. Sue me. Geez. It is Saturday night, and I've had a helluva week.