Well, I'm back. Tan, burnt, rather, relaxed and ready to get cooking. Maui is a beautiful island full of beautiful foods and tantalizing cocktails served up in beautiful displays of tropical goodness. All the restaraunts we frequented were extremely vegetarian friendly, thank goodness, because I was traveling in a group of nine, and heaven knows I wouldn't have been able to talk them
ALL
into going to a completely veg establishment. I was astounded and amazed by the curries and stirfries, and the neverending use of pineapple and macadamia nuts.
BUT...
I also came home to a
BROKEN COMPUTER!
The Geek squad came out yesterday to do their thing and we ordered the required part. It won't be in for 8-10 business days! WOE IS ME! I will try to update you folks as often as possible from my office, but you all know how that can be.
For now, here is a island inspired tofu dish.
DO NOT BE DECEIVED BY ALL OF THE SWEET SOUNDING INGREDIENTS!
This curry packs a punch.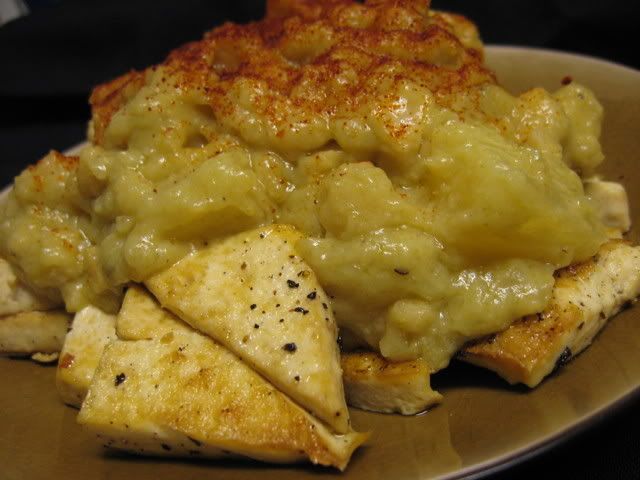 Coconut Pineapple Macadamia Nut Curry Tofu
Ingredients
Tofu
1 block of extra firm tofu, drained and pressed and cut into bite sized chunks
2 tbsp oil for frying (I used coconut oil)
Salt and pepper to taste
Curry Sauce
1 15 oz can coconut milk
1 tbsp green thai style curry paste
2 tbsp cornstarch plus 2 tbsp water mixed together to form a slurry
1 tsp garlic powder
1 cup of pineapple chunks, drained
1 cup of macadamia nuts, chopped (I used dry roasted, but raw will work too)
Salt and pepper to taste
Paprika to taste
Directions
In a heavy bottomed skillet, add the oil and heat, add in the tofu, season with salt and pepper and pan fry until nice and golden. In a seperate pan, or pot, bring to a boil the coconut milk and curry, reduce to simmer, about 5 minutes. Add in the cornstarch slurry, slowly and stir vigorously to prevent lumps from forming. Remove from heat, fold in the pineapple chunks and macadamia nuts. Season with salt and pepper to taste. Pour over tofu pieces and sprinkle with paprika. This works well with a side of fragrant Jasmine rice.