Certainly not a from scratch recipe, but certainly a tummy pleaser, this semi-home made lasagna only takes minutes to throw together, and after about 45 minutes in the oven...dinner is served!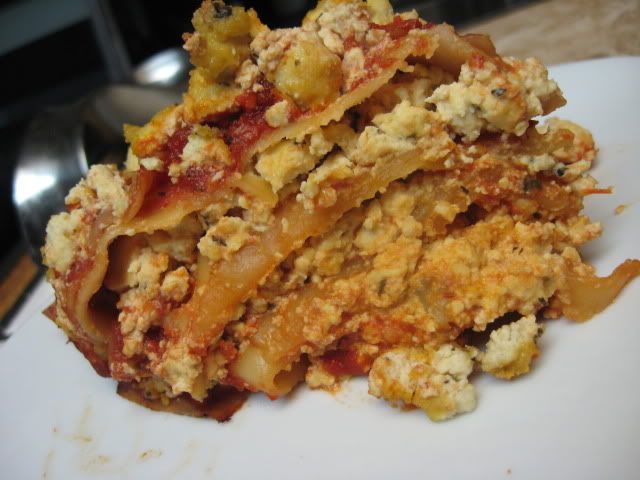 1 box of no-boil lasagne noodles
1 large jar of your favorite red pasta sauce
1 block (16-20 ounces) extra firm tofu, drained and presses
1/4 cup nutritional yeast
1 (8 ounce) container nondairy cream cheese, like Tofutti
2 tablespoons garlic powder
1 to 2 tablespoons dried basil, to taste
Salt to taste
Preheat oven to 350 degrees F.
In a mixing bowl, crumble tofu. Add in nooch, cream cheese and garlic powder. Add salt to taste. Use your hands to get it really well incorporated and to resemble the texture of ricotta cheese.
In a glass baking dish (I used a round one this time, so I could pretend I was having lasagna pie!) start with a thin layer of sauce. Add a layer of noodles, then more sauce, then a layer of tofu cheese, then another layer of noodles.
Repeat until you use all of your noodles, or get to the top of your dish, finishing with a final layer of sauce and cheese.
Bake, covered, for 35 minutes. Uncover and bake an additional 10 to 15 minutes, or until the top is beginning to brown.
Allow to rest for 10 to 15 minutes before serving!
Need more oomph? Add layers of sliced mushrooms to the mix!