In amidst the packing and cleaning and prepping for the move, I found time to fix a few quick meals that can be easily eaten throughout the week. This cold pasta salad is one of them. It is very hearty, very yummy and comes together in the amount of time it takes to boil the pasta.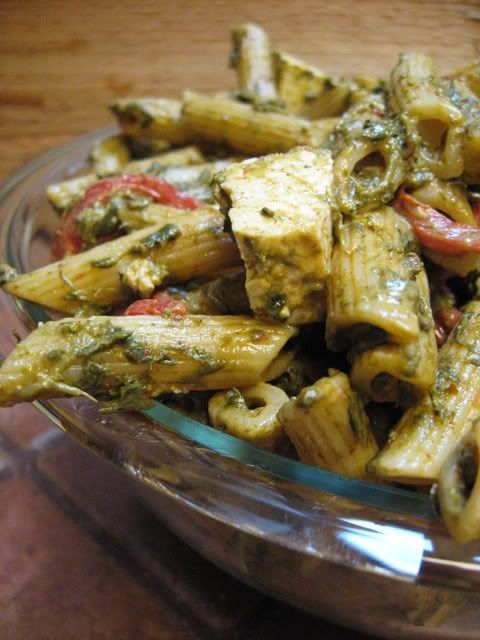 Cedar Smoked Tofu and Pasta Salad in a Chipotle, Spinach and Roasted Red Pepper Dressing
Ingredients
1 lb pasta (I used penne)
1 lb block of extra firm smoked tofu (you can buy it already smoked, or
make your own
), cut into bite sized chunks
1 cup vegan mayo
1 tsp garlic powder
1 tsp onion powder
1 tsp ground chipotle powder
1 tsp chili powder
12 oz roasted red peppers, sliced thinly
14 oz spinach (drained if using canned, about 2 cups if using fresh, chiffonade)
salt and pepper to taste
Directions
Prepare pasta according to package instructions. In a large bowl, combine all other ingredients. When pasta is ready, drain and run cold water over it to cool it down quickly. Toss the pasta with the dressing. Refrigerate until ready to use.