If you are a regular visitor to my blog you know that it's a rare occasion that Dan and I leave the house on the weekends. Instead we have stay at home date night, and we cook up some fun dinners in the kitchen, that we wouldn't have the time or energy to make up on a weeknight.
Well it's Saturday night, and Dan has left me for the night to hang with the boys and do boy stuff. I'm sure none of it revolves around cooking. Drinking? Maybe. But cooking? No way.
So here I am. Left to my own devices. I have no one to tell me what I can or cannot make. So exciting! I shall wonder through the pantry and ponder what delicacy I can make for one this evening. All while wearing fuzzy slippers, with smelly candles and incense burning. I might even crack open a bottle of red.
I will update this post after I decide on what to make...it shall be fabulous.
So I have come up with this.
The Scarborough Fair Tofu Burger
If there was ever a reason to call a veggie burger hippie food, then this burger fits the bill. Inspired by watching The Drug Years on VH1 and of course, dear and sweet Simon & Garfunkel, these burgers are sure to please your peace lovin' pals.
Normally I advocate the use of fresh herbs...but for this one, dried work best.
Serving Suggestion
Serve with herbal tea, and a side of granola. Just kidding. This one pairs very nicely on a whole grain bun or bread with a light schmear of herbed vegan mayo, sprouts, avocado and tomato. Best served for lunch with a hearty green salad.
Uncooked. See how perfectly formed those patties are?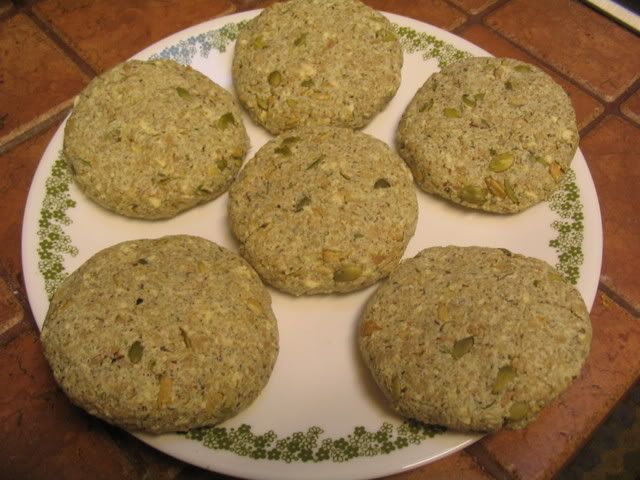 Baked on a whole wheat bun with herbed vegenaise, shredded zucchini and avocado.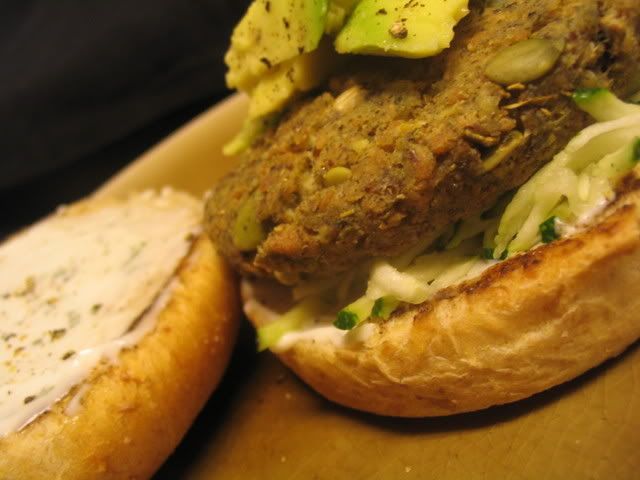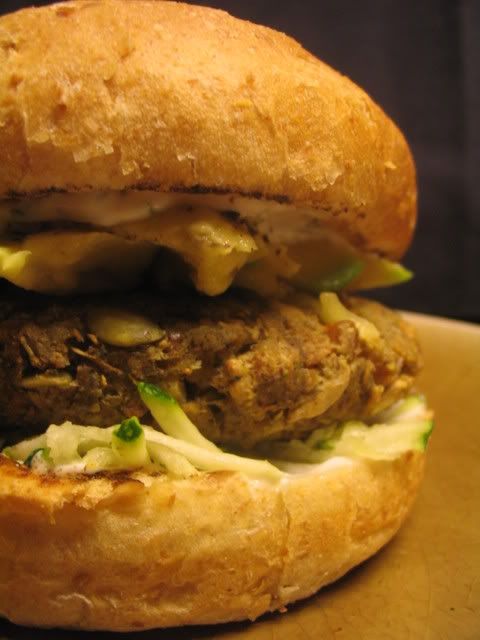 Ingredients
(makes 6 patties)
(Edited to add: I tend to overspice, so if this seems like to much spice to you, feel free to cut it down, even by half!)
1 tbsp dried parsley
1 tbsp dried sage
1 tbsp dried rosemary
1 tbsp dried thyme
12 oz extra firm tofu, drained and pressed
1 cup TVP granules
1 cup veggie broth
2 tbsp minced garlic
1 flax egg (2 1/2 tbsp ground flax mixed with 3 tbsp water)
1/4 cup hulled sunflower seeds
1/4 cup hulled pumpkin seeds
Sea salt and fresh cracked pepper to taste
Directions
Grind the parsley, sage, rosemary and thyme into a fine powder. I use a coffee grinder for this. In a mixing bowl, crumble the tofu and mix well with the spice mixture so that the herbs are well infused with the tofu. Let sit while you reconstitute the TVP, either by mixing it with the veggie broth and covering tightly with plastic wrap and microwaving for 5-6 minutes, or by pouring boiling broth over the granules, covering and let sit for 10 minutes. When cool enough to handle, add the TVP to the tofu mixture, then add in the minced garlic, flax egg, sunflower and pumpkin seeds. Add salt and pepper to taste. Mix with your hands until all ingredients are very well incorporated. The mixture will be nice and smooth, and should form lovely patties. Refrigerate until ready to cook, although refrigeration isn't necessary if you plan on cooking them right away. I recommend baking these rather than frying. It just seems that this burger is too healthy to fry. Bake at 350, for 15 minutes per side, on a non stick baking sheet, covered with foil.
Yield:
6 burgers
Oh, and for the record...the things I have put into my mouth today include: Breakfast, 3 cups of coffee with a touch of silk vanilla soy creamer, a bowl of crispy rice cereal and light vanilla soymilk. Lunch, a zucchini mushroom burger with vegenaise on a whole wheat bun. Dinner, Above mentioned Scarborough Fair Tofu burger on a toasted whole wheat bun with avocado, shredded zucchini and herbed vegeneise. Evening libation, coffee and Kahlua.