Last year my cousin Leah and her boyfriend Tim did something amazing. They dubbed it
"The Great Grocery Experiment"
in which they vowed to only eat food they already had in their kitchen, and not to buy anything for an entire month!
Think about that. 30 days of eating only wht you already have. Most of us could do that, no problem. Go look in your pantry. There is enough rice, beans, pasta, quinoa, nuts, seeds, oatmeal and cereals in mine to last me until the end of the year! Not to mention the stuff in the freezer and fridge.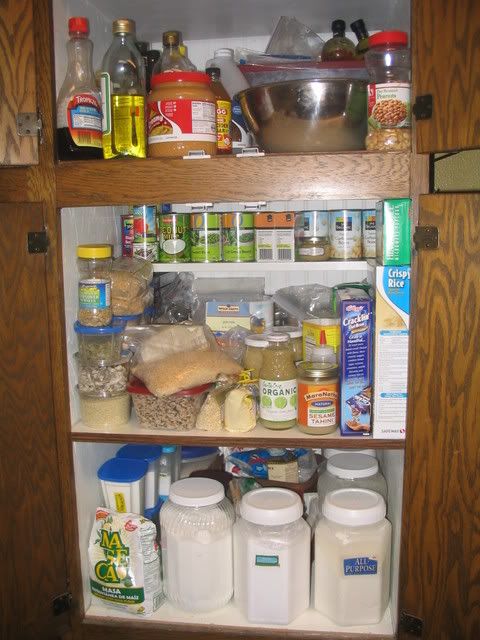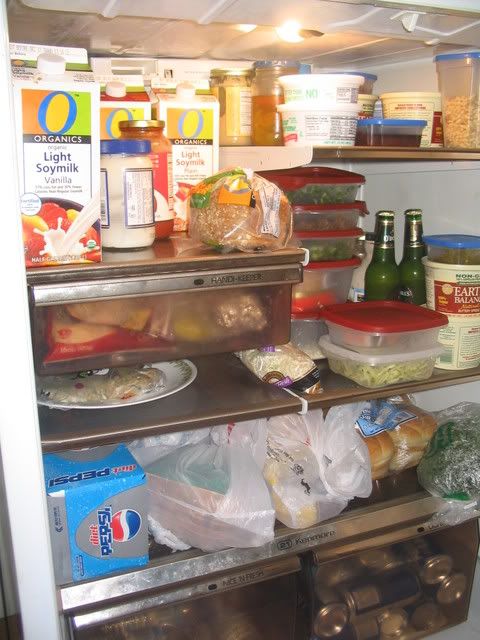 (Please ignore any cheese or mayo or ranch or diet pepsis or beers...those belong to my husband. Other than that, I think I have effectively pushed him and all of his animal products out of the kitchen!)
I am going to make an effort to only cook with what I have until the week of Thanksgiving. ( I have quite a feast to plan for that week, so I will surely need to shop for fresh produce at that time.) The challenge will be to make exciting dishes with things I already have, and not resort to rice and beans or simple pasta. From the looks of it, some soba noodles in a peanut sauce with frozen broccoli may just be the ticket for tonight's dinner. I will post everything I make, along with recipes and photos when possible.
I challenge you all to look into your kitchen's and do the same! Think of the money you will save!
Edited to add: I made my first meal, for lunch, with enough left over for dinner. I made
Joanna's Spicy Almond Noodles
from
Yellow Rose Recipes
. I subbed peanut butter for almond butter because I was still crving peanut sauce after being dissapointed at Mother's. This really is an excellent recipe! So today's food includes: Breakfast: Coffee, 3 cups with just a tad of soy vanilla creamer, Lunch, the above mentioned Spicy Almond Noodles and Dinner will also be those yummy noodles. I am also going to try to avoind any late night cookie binges too!