Festivous, you know, for the rest of us? The holiday meant for those who don't celebrate those other holidays and made famous by the memorable Seinfeld episode. But every holiday needs a signature dish, right? Alright. Here it is. The one, the only, the
Festivous Loaf
.
Ingredients:
2 cups vital wheat gluten flour
2 cups garbanzo bean flour
2 cups all purpose flour (can sub whole wheat pastry flour here too)
2/3 cup vegetable broth powder (I used vegetarian chicken flavor)
2-3 cups water
Pesto (I used sundried tomato flavor, but any pesto will do)
2 boxes of storebought stuffing mix (prepared with vegetable broth)
4 cups additional vegetable broth
Directions:
Preheat oven to 350 degrees.
Mix together the flours with the vegetable broth powder and slowly add in the water. Start with 2 cups and add more if needed. Knead together until a nice smooth dough ball is formed. Knead for 5 more minutes, and then cover and set aside to rest for 20 minutes.
While it's resting, prepare 2 boxes of storebought stuffing according to package instructions and set aside. (Most boxed stuffings are vegan, infact they are really just a bag of seasoned croutons or bread crumbs so if you have a favorite stuffing recipe, this would be a good place to use it.) Set aside.
After your dough has rested, roll it out on a well floured surface, trying to keep a rectangular shape...mine ended up being almost as big as the cutting board:
Spread a hearty layer of pesto all over the dough: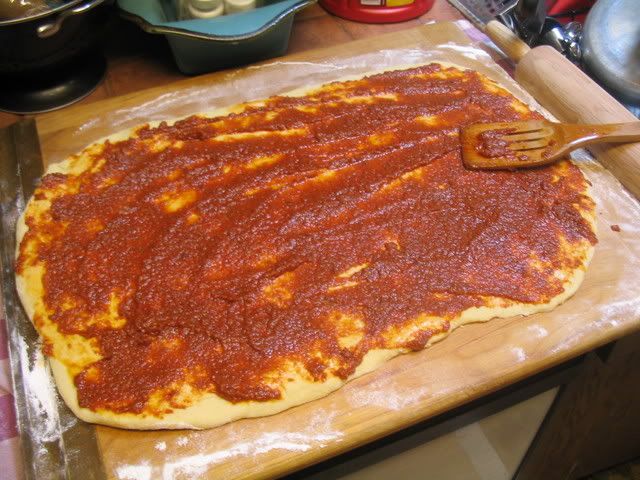 Sprinkle on a good amount of prepared stuffing:
Roll that puppy up!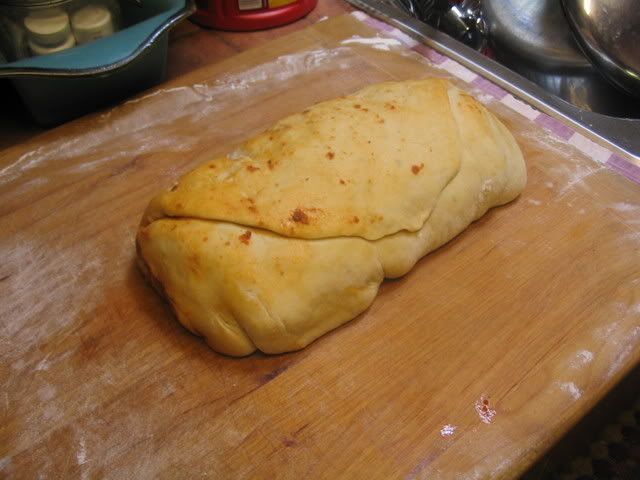 Pour about 2 cups of vegetable broth into a 9 x 13 baking dish, then place the loaf in the dish: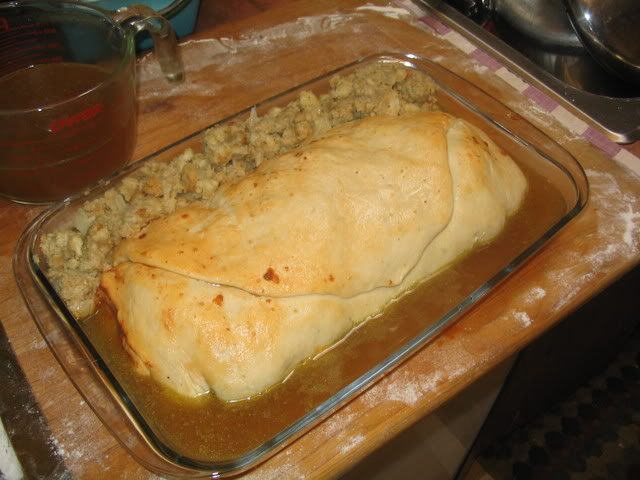 Add the remaining stuffing all around the loaf: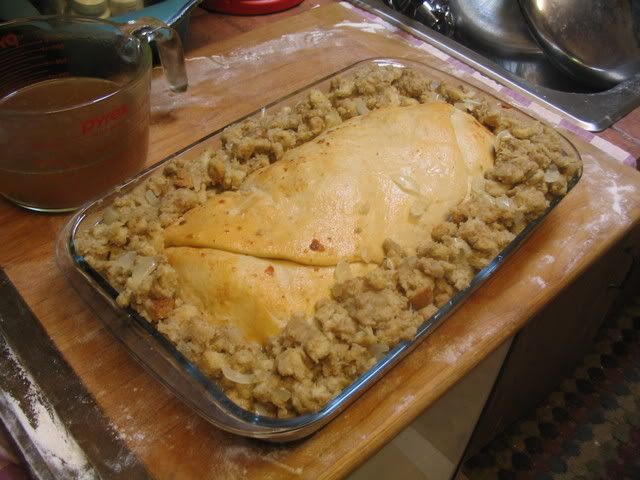 Place in the oven at 350 degrees F for about 90 minutes, basting with the remaing broth every 15 minutes or so. You'll know it's done, when it is firm.