Some days are just too busy to create a masterpiece in the kitchen. Today was one of those days. Although I wanted to just kick back and order pizza, I still mustered up enough energy to make myself a nice, and easy dinner. Usually on nights like this, I just boil up some pasta, melt a little EB on it and call it dinner, but I wasn't in the mood for that. So as I tried to think of things I liked together, and stared into my pantry, I came up with this.
Out of my pantry (and fridge) I took:
1 13.5oz can of coconut milk
1 15oz can of peas
1/4 cup of cashews
1 cup of brown rice
1 tbsp yellow curry powder
1 cup of water
1/4 of a log of
Lachesis Seitan'O'Greatness
(sliced into strips)
a pinch of salt
a dash of pepper
Then I threw it all in a nice big skillet, let it simmer until most of the moisture was absorbed and the rice was tender and called it done. There's even enough leftover to take to work tomorrow for lunch.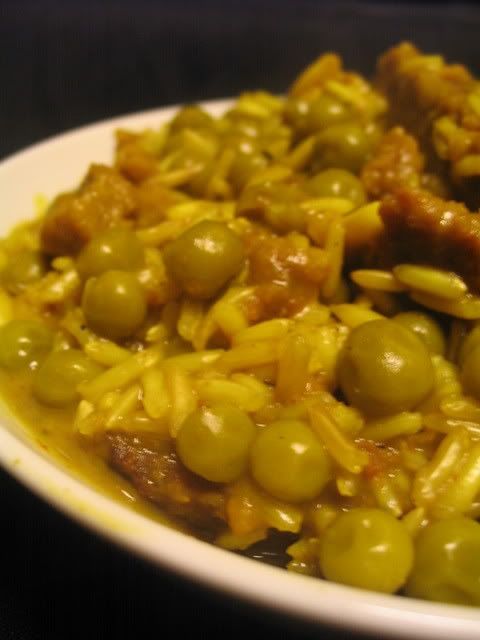 Other things I ate today: Coffee, a zucchini mushroom burger on a bun with vegenaise for breakfast, a scarborough fair burger on a bun with vegenaise for lunch and above recipe for dinner
.