Originally Posted on Saturday, January 06, 2007
Veggie Logs
I'd like to say I wrote this myself......but the truth is, I don't think anything I make anymore is pure. Everything is inspired by something else. Most likely, this was inspired by Isa and her veggie burgers.
Here they are in the pan (Man, I really love that skillet. Thanks, Mom!)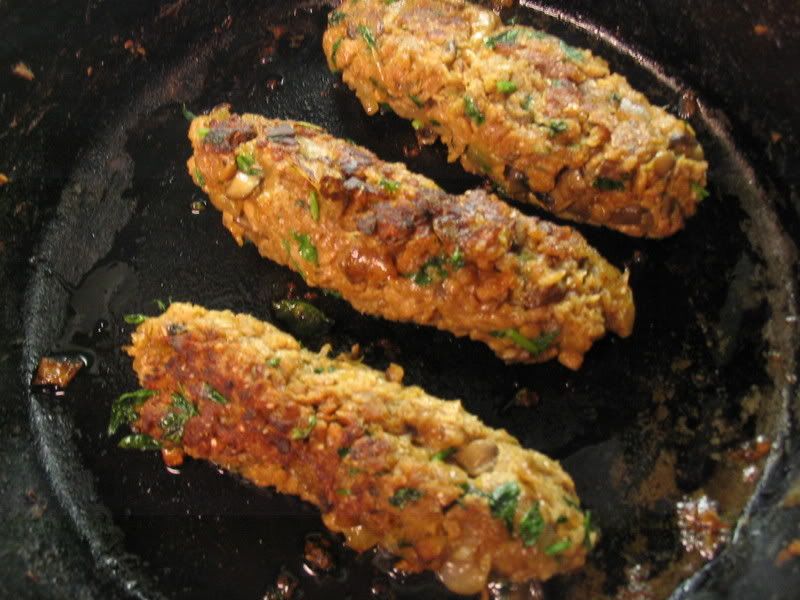 Here they are all wrapped up nice and pretty in a Lavash blanket with Lettuce and honey mustard (I know, honey isn't vegan, but I eat it.)
Veggie Logs
2 tbsp Olive oil (for the pan)
2 cups mushrooms, finely chopped
1 medium onion, diced
1 tsp cumin (my new favorite spice)
2 or more cloves of galic, minced
2 tbsp + 1 tbsp soy sauce (1 for the TVP)
1 cup TVP, reconstituted with 7/8 cups boiling water and 1 tbsp soysauce
1/4 cup vital wheat gluten flour
1/2 cup whole wheat flour
1/4 cup nutritional yeast
1/4 cup fresh, chopped parsley2 tbsp peanut butter
Put 1 tbsp olive oil in a large skillet, preferrably cast iron, and heat to medium high heat. Add the mushrooms, chop the onions and add the onions, add the garlic, add the cumin. Let them cook until tender and the onions are translucent. Add the soy sauce, deglaze. Reconstitute the TVP while cooking, add the TVP to the pan and cook for 5 more minutes. Remove from heat and transfer to a large mixing bowl. Let cool enough to handle. Good time for a smoke break. Add flours, parsley and peanut butter to the mixture and work it together with your hands, until sticky and doughy. Divide into 6 and shape into logs. Reheat the pan with the other tbsp olive oil and saute each log until crispy on the outside. Serve in a pita or flatbread with your favorite fixings.
My favorite fixings are red onion slices, sprouts, vegannaise and spinach. But all I had was lettuce and a honey mustard vinnagraitte.
Makes 6 logs.
Nutrition facts, per log:
216 calories, 8 grams fat, 495 mg sodium, 22 grams carb, 2.7 grams fiber, 3.8 grams sugars, 19 grams protein.