Today I made seitan.
It was the best seitan I have ever made!
Iused a variation of the Native Foods Recipe. It makes a lot. This batch will probably last 2 weeks (but I am the only one in my house that eats it!)
Here it is, two beautiful seitan logs of yumminess: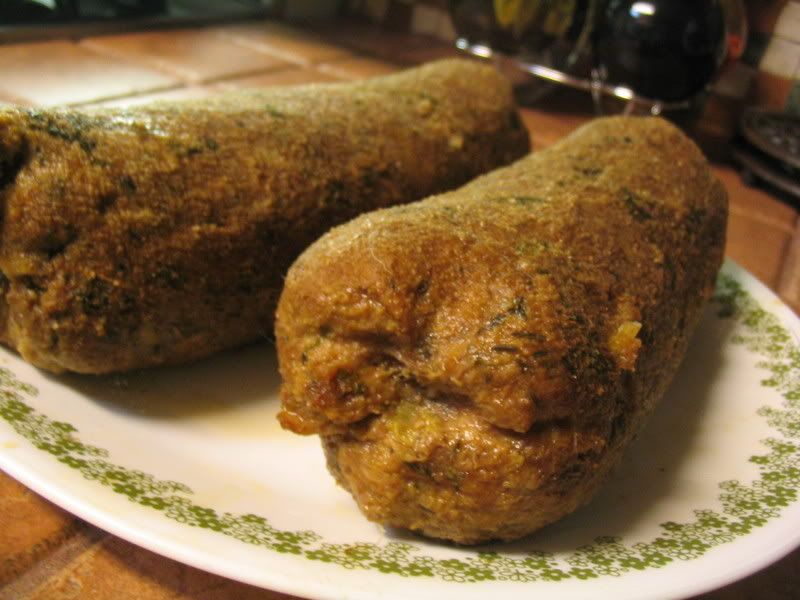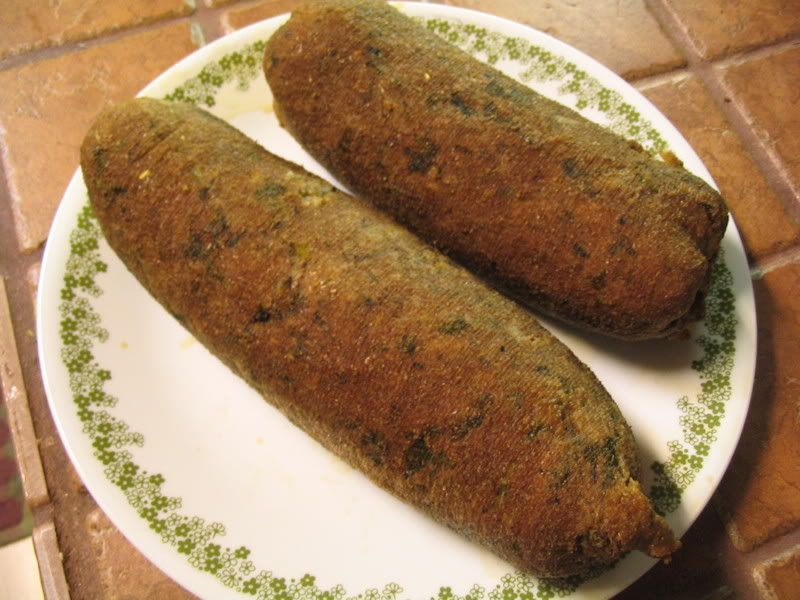 Close up, it was good enough to eat by itself, but I still had some of Joanna's nooch sauce leftover, so I used it as a dipping sauce:
Seitan Broth:
10 cups water
2 cups soy sauce
10 cloves garlic (chopped in half)
5 whole bay leaves
3 two inch slices of fresh ginger (or one hand, chopped into chunks)
Seitan Dough:
1 cup vital wheat gluten flour
5 cups whole wheat flour
2.5 cups water
1/2 cup fresh chopped parsley
3 green onions, only the whites (finely chopped)
1 tsp garlic powder
1 tsp onion powder
1 tbsp fresh cracked pepper
cheesecloth
Directions:
Prepare broth, and place on stove, bring to simmer while preparing dough.
In a large mixing bowl mix the flours, slowly add water and form a stiff dough. Knead the dough about 70 times. I do it right in the bowl. Let rest 20 minutes.
After resting, take dough, in the bowl, to the sink and cover with water. Knead the dough until the water becomes milky, empty the bowl and repeat. Do this 10-12 times. By the 10th to 12th time, the dough will feel and look like the consistency of brains.
After the last rinse, add the onions, parsley, and spices. Mix thouroughly, by hand.
Divide dough into 2. Place 1 section of dough in the center of a large piece of cheesecloth and roll in tightly into a "log" shape. Tie the ends to secure. Repeat with the other piece.
Place both "logs"in the broth and simmer for 90 minutes.
Remove from broth and set on a plate to cool. Remove from cheesecloth. If the cheesecloth is sticking, run under some water, and it should come off easily. You can store it in the fridge (in foil) or in a plastic container. To keep it really moist, place some of the broth in the container.) Keeps in the fridge about two weeks, or indefinitely in the freezer.