Originally Posted on Tuesday, January 02, 2007
These are not prettydishes, but man are they tasty!
I made this really easy, really fattening and really YUMMY spinach artichoke dip to bring to a party:
Spinach Artichoke Dip:
2, 15 oz cans of artichoke hearts, drained and quartered
1, 15 oz can of spinach, drained
1 shallot, (or any onion) diced
1/2 cup nooch (Nutritional Yeast)
2 (or more) cloves of garlic, minced
1, 8oz tub of Tofutti Better than Cream Cheese
1/2 cup Vegannaise
1/4 tsp sea salt
Fresh Cracked Black Pepper to taste
Mix up all of the ingredients well, and put into a casserole dish, sprinkle the top with a little extra nooch, vegan parm or ground cashews and bake at 400 degrees for 20-30 minutes or until bubbly. Serve hot/warm with pitas, flatbreads, or crackers.
And New Year's Day Hangovers were cured with an attempt at Pumpkin Pancakes and the VwaV Tofu Scramble:
In my new cast Iron Skillet: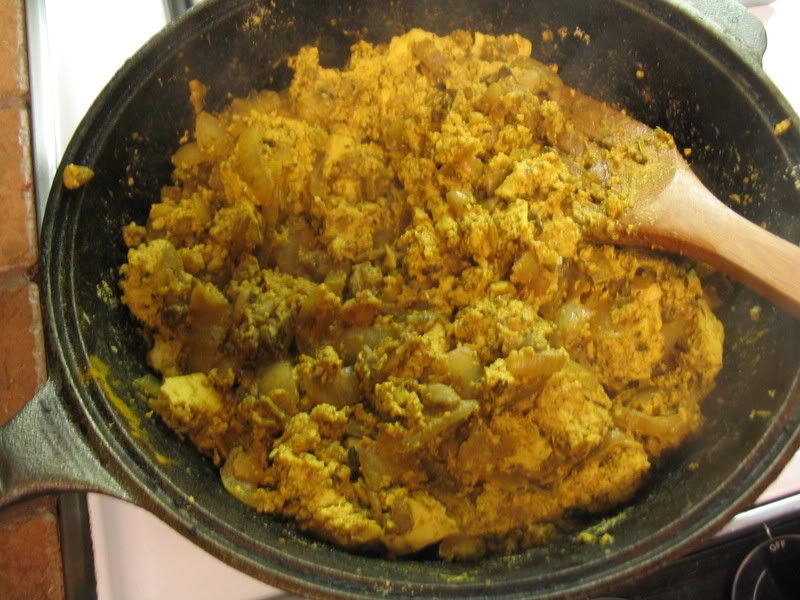 In my bowl:
A lonely and burnt, but still yummy, pumpkin pancake: