Did I ever mention that I met the co-founder of
Follow Your Heart
, and I nearly peed my pants with wonderment as I graciously shook the hand of the man who invented my most-favoritist condiment ever? Well I did.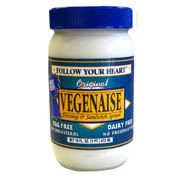 The delicious Vegenaise. I feel no guilt buying it, and although, yes, I can make my own tofu mayo, this stuff beats ho'made hands down.
Creamy and delicious. Thick and spreadable. Tastes good on just about everything. It even turns leftovers into incredible edibles.
Case in point, burger roll-ups from a few days ago, are now "burger roll-up salad."
EXTRA SPECIAL THANKS
to burger tester
r.add-ist
for giving me the idea to mash up left over burger patties into sandwich fillings! It has made my life so much better!!!