Otherwise known as a
roulade
. I made these to be sliced and eaten as BURGERS! One roll yields about 10 or 12 burgers, so there's plenty leftover for work lunches and quick weeknight heat ups.
On a home made sweet potato bun with vegenaise and steamed broccoli.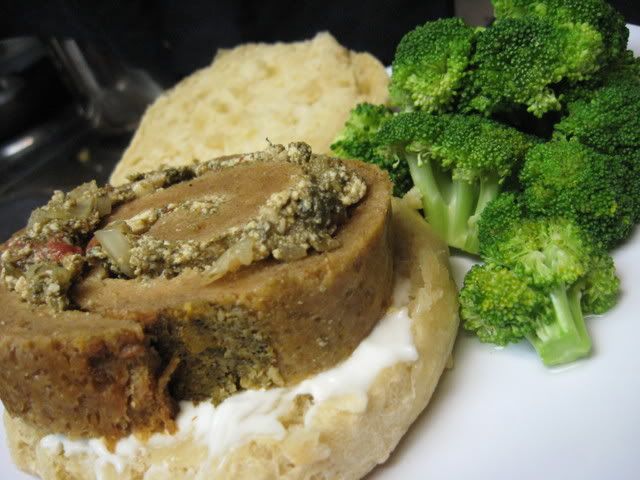 Ingredients
2 cups vital wheat gluten
1 cup whole wheat flour
1/2 cup nutritional yeast
2 tbsp veggie broth powder
2 tbsp garlic powder
2 tbsp onion powder
1/2 tsp paprika
salt and pepper to taste
2 cups water
1/2 cup olive oil
Directions
In a mixing bowl, mix together all dry ingredients. Add water and oil and knead for about 5 minutes. Cover and let sit for 20 minutes. Preheat the oven to 350 degrees. Meanwhile make the filling...
Filling
1 14 oz block of extra firm tofu, drained, pressed and crumbled
1/4 cup vegan cream cheese
1/4 cup ground cashews
1/4 cup pine nuts
1 14 oz can (about 2 cups) diced tomatoes, drained
1 14 oz can (about 2 cups) spinach, drained
1 cup diced onion
1/4 cup nutritional yeast
2 tbsp minced garlic
Directions
Mush all ingredients together in a bowl, set aside until ready to use...
After the dough has set for 20 minutes, roll it out into a large rectangle. I use a cookie sheet to do this. After you get a nice, large, flat rectangle, spread out the filling leaving about an inch around the edges. Roll up tightly and place seam down on a large sheet of aluminum foil, wrap and twist the edges tight. Place seam side down on a baking sheet, and bake for 90 minutes. Remove from the oven, let cool enough to handle. Unwrap, and slice about 1/2 to 3/4 of an inch thick and serve on your favorite bun!