I have been pretty lazy this week when it comes to cooking. I had so many leftover burgers and stuff in the fridge, I felt guilty making something new without using up the "old" first. I can officially say that it's time to get cooking again.
I'll start with dessert!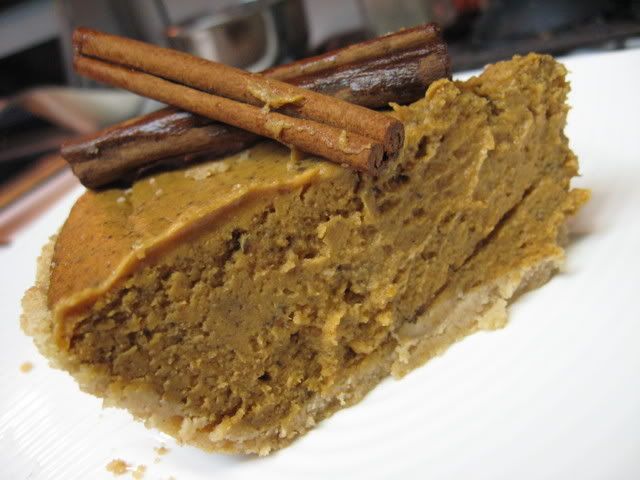 Pumpkin Cheezecake Pie
Ingredients
(one 9" pie)
1, 9" pie crust (you can make you own, but I went with a premade graham crust for this one)
2, 8oz containers of vegan cream cheese
1, 15 oz can of pure pumpkin
1/2 cup brown sugar
1/2 cup sugar
3 tbsp arrowroot powder
1 tsp cinnamon (ground)
1/2 tsp ginger (ground)
1/4 tsp nutmeg (ground)
1/4 tsp cloves (ground)
Directions
Preheat oven to 350 degrees. Beat all ingredients together using an electric mixer until smooth. Pour into pie crust. Place a pan of water (about 1" deep) on the bottom shelf of the oven. Line a cookie sheet with foil. Place the pie on the foil lined sheet and place in the oven on the top rack. Bake for 45 minutes. Remove and let cool, place in refrigerator until ready to serve, and to set even more.