This here burger was the brainchild of my bestest friend, Jen. She said if I could pack an entire Thanksgiving dinner into a burger, she would be in heaven. So, I gave it a shot. Invited her over and had her test it out. She said it was crack. So, there you have it. If you're in the mood for Thanksgiving, make it. It's also a good way to use up "real" Thanksgiving leftovers.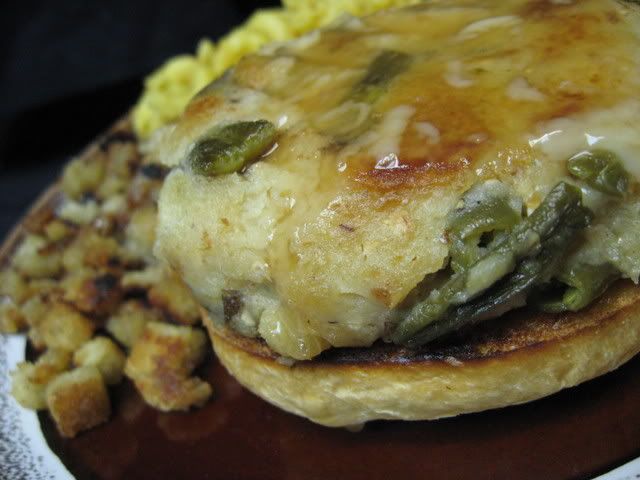 Openface on a grilled sourdough dinner roll, with plain brown gravy.
Straight-Up-Thanksgiving Burgers

Ingredients (makes 8 big burgers)

4 cups prepared mashed potatoes
(I used the Garlic Smashed potatoes from Cozy Inside, but any mashed potatoes will work. Skin on adds more texture to the burgers)
4 cups prepared stuffing/dressing
(I used McCubbins Herb flavor, but I think any bread based stuffing would work fine...In fact, a few slices of stale bread, cut into cubes and mixed with margarine and veggie broth, then baked amkes a prettay darn good stuffing.)
1, 14oz can of cut green beans, drained1 cup French's french fried onions
(Seriously, would it be Thanksgiving without them?)
1 cup diced onions2 tbsp garlic, minced1 tbsp margarine for sauteing onionssalt and pepper to taste

Directions
Prepare mashed potatoes and stuffing, set aside. In a pan, on medium high heat, melt margarine and add onions and garlic and saute until just beginning to brown. Mix all ingredients together in a bowl and form into patties. Pan fry, in oil, about 3-5 minutes per side or bake at 350 for about 20 minutes. Everything is already cooked, you just need to heat 'em up!