Tomorrow is my birthday. I wanted to go to Octoberfest. Why? You know, to drink beer and eat brats. Truth is, I don't like beer, and I obviously don't eat brats, so why should I go to some wacky overcrowded beer garden and pay $15 to get in the gates and $9 a beer, that I don't even drink?
Solution. My husband suggested we make our backyard into a beer garden and have Octoberfest in our own backyard. Genius! I knew there was a reason I married that man.
Then I got to thinking...he and some of our friends are still gonna be eating brats covered in kraut and drinking lots of beer, so whattabout me? It is MY birthday!
I wanna have brats! So here they are...Octoberfest Wieners:
Naked in all of their krauty glory. Tomorrow I will smother them with sauer kraut and mustard on a nice crusty roll! And I'll be drinking Kahlua and Vanilla Soymilk!
Dry Ingredients:
2 cups gluten flour
1/4 cup nutritional yeast
1 tbsp garlic powder
1 tbsp onion powder
1 tbsp parsley flakes
1 tsp ground black pepper
Wet Ingredients:
1/2 cup sauer kraut
+/- 1 1/2 cups veggie stock
Directions:
Preheat oven to 35o. In a mixing bowl, whisk all dry ingredients together. Than add the sauer kraut and 1 cup of the veggie stock. Knead together (if it's too dry, add in the remainder of the veggie stock) about 5 minutes until it looks like brains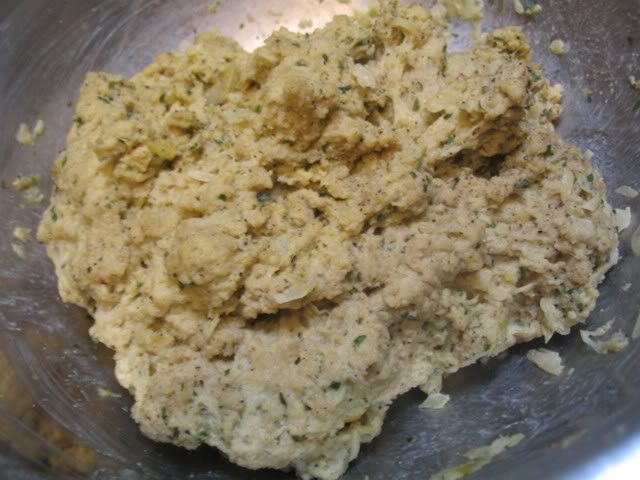 Divide into little logs and place on a square of aluminum foil.
Roll up the foil tightly and twist the ends closed.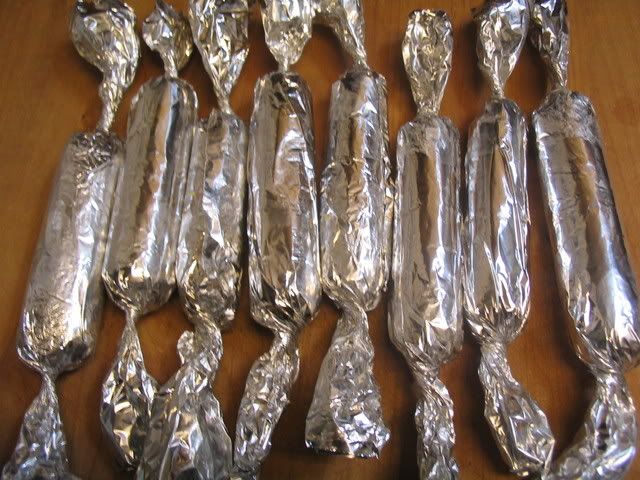 Bake for about 60 minutes. Remove from the oven. Remove from foil, when cool enough to handle.