I signed on as the only vegetarian/vegan caterer for a children's benefit on October 20th. The event will feature 10 local chefs all serving at least 2 appetizers for 250 guests. That's 500 appetizers folks! So I put my thinking cap on trying to think of the easiest, tastiest and most eye appealing appetizers and I am seriously coming up blank. I have mastered the art of making something taste great, but my presentation has left something to be desired.
Before I turned to the ppk, I tried a few things out myself. But, alas, the ppk'ers have given me such great inspiration, that I think these two may fall of the list and I will try some of their ideas out this week.
What would you make?
I wanted to make one sweet and one savory, and for the sweet I was thinking of a mini one bite lemon cupcake with lemon creem cheeze frosting topped with lemon zest and a rasberry...but someone said that cupcakes don't count as appetizers. So now what?
These are two of the ideas I came up with: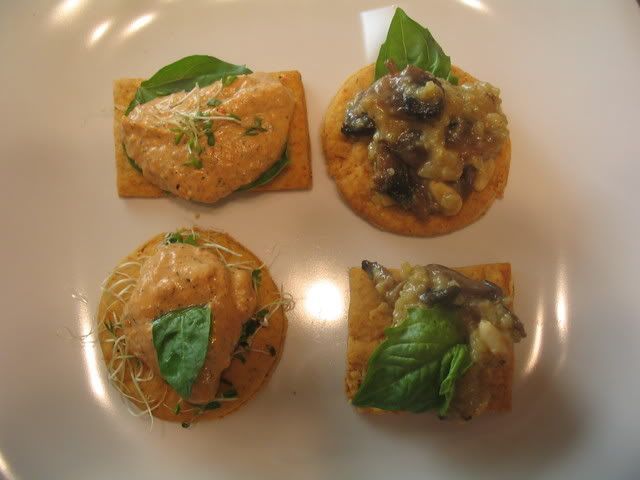 This is a mushroom and garlic rissotto atop a garlic, herb and cheeze cracker (I used
this recipe
, and added garlic and dill.) garnished with a fresh basil leaf.
This is a fire roasted red pepper and garlic creem cheeze sauce on a small bed of alfalpha sprouts atop the same cracker, also garnished with a fresh basil leaf.