...since I've updated my blog! I am so ashamed. Well it was a crazy weekend, but the Children's Benefit for Salem School went off without a hitch. My wonderful Mom came down to help out, and we got lots of wonderful feedback on the food. We served over 300 phyllo cups! People kept coming back for more, and lots of folks were very interested in the fact that all of it was vegan. "How do you make it so good without meat?" "We were told to come get food from this table, 'cause it was the best!" The coolest thing was, we were set up next to a guy who did an entire table of meats and cheeses, and guess what? Almost all of his food was left uneaten at the end of the night...he said I was his nemisis...hee-hee.
SCORE ONE FOR THE VEGAN TEAM!
Here are some pics of the final products:
Me, my Mom and our table: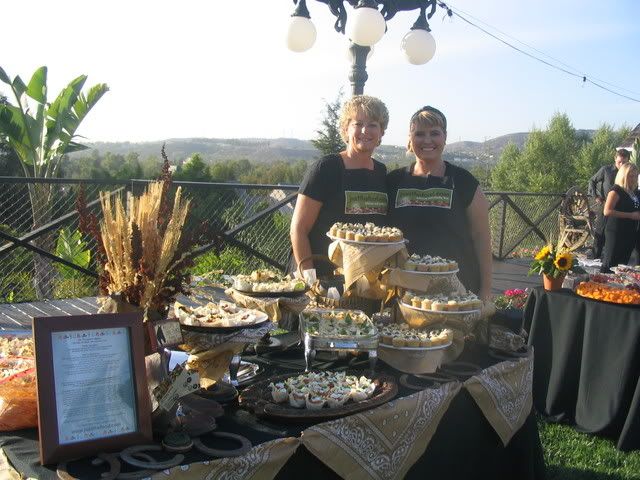 Little Taco Salads (Soyrizo mixed with Tofutti Better than Cream Cheese topped with Tofutti Sour Supreme and green onions):
Caramelized Onions and walnuts in an agave nectar and balsamic reduction:
Mediterranean Couscous (with olive oil, basil, sundried tomatoes and garlic):
Spanikopita, spinach and tofu feta with lemon juice, nooch and garlic, topped with toasted pine nuts and sun dried tomatoes (this seemed to be the crowd favorite!):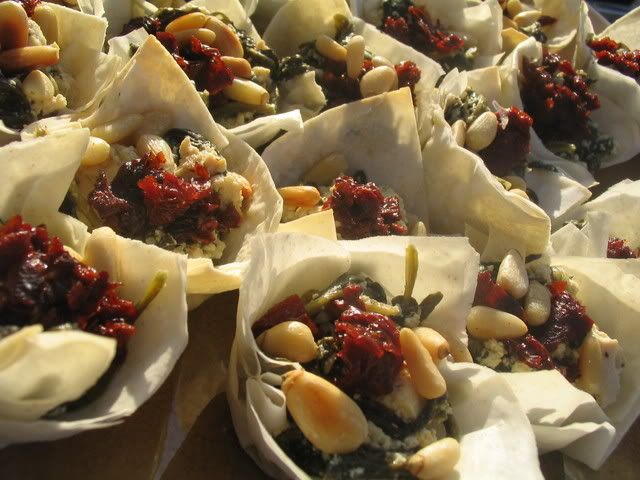 Mushroom Rissotto made with Jasmine rice instaed of arborio:
And our tower of Lemon Gems (from VCTOTW) with lemon cream cheese frosting, topped with lemon zest and a blueberry:
And if you are wondering about the bandanas and horse shoes all over the table...the party had a western theme and we were asked to decorate our table accordingly.