Way "too vegan" to serve to regular folks. But man, sure was tasty. I guess I'll just go with the phyllo cups and mini lemon cupcakes. Thanks for all of your feedback!

Ginger Soy marinated and grilled Tofu skewers with Thai peanut dipping sauce: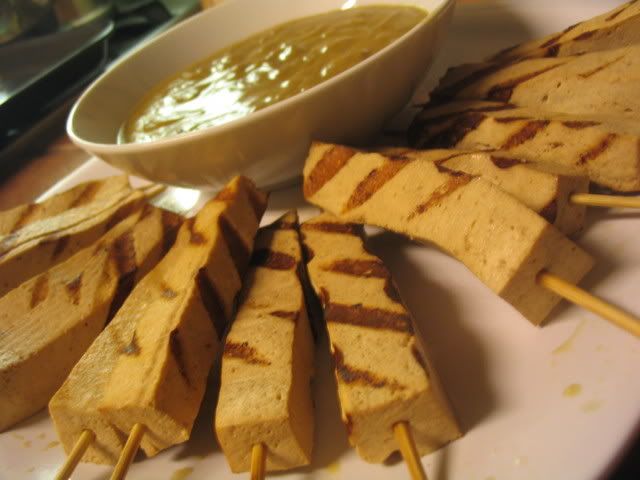 Ginger Soy Marinade:
1/3 cup soysauce or tamari
1/3 cup rice vinegar
1/3 cup water
1 tsp ground ginger

Mix it all up and use as a marinade. Tofu should only marinate for about 30 minutes or it gets too salty.
I just took one block of extra firm tofu, drained and pressed, and sliced it into 6 pieces, and then cut those six peces in half. (See the diagram.) I then marinated the slices for 30 minutes and placed them on the skewers. Then on an indoor grill (a bbq would be fine too) I grilled each side of the skewer for about 1-2 minutes and then flipped it over to the next side. 4 turns total.

Simple Thai Peanut Sauce:
1/2 cup peanut butter
1/2 cup peanut oil
1/3 cup chopped green onions
2 tbsp soy sauce
1 tsp dried red pepper flakes

Put it all in the blender and puree until smooth.

Curry Couscous stuffed mushrooms: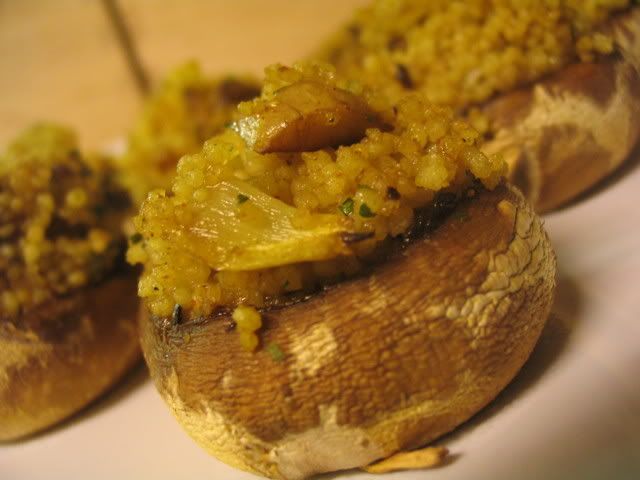 Curry Couscous Stuffed Mushrooms:
1 1/2 cups water
1 cup couscous
8 oz mushrooms
1 medium yellow onion, diced
3 cloves garlic, minced
2 tbsp olive oil
1 tbsp yellow curry powder
1 tbsp parsley flakes
1 tsp garam masala
Sea Salt & Fresh Cracked Pepper to taste
Preheat oven to 350. Carefully remove the stems from the mushrooms. Reserve stems, chop and saute in the olive oil in a pan along with the onions and garlic until fragrant, about 7-10 minutes. Bring water to boil. Add couscous, reduce heat and stir until all water is absorbed. Add in the sauteed mixture, curry, garam masala, salt and pepper. Mix together well. Stuff into the hollowed out mushrooms and bake for about 15 minutes. Eat the leftover couscous mixture for dinner!