I was going over to a friend's house Friday night and wanted to bring some finger foods that everyone would enjoy, vegan or not, while we were excitedly watching Chapters 13-22 of R.Kelly's "Trapped In A Closet." (Don't hate!) So I came up with these...
SOOOOO EASY A CAVEMAN COULD DO IT!
Meximosas:
Simply, a flour salt and water dough (+/- 2 cups ap flour, +/-1 cup water and a pinch of salt), rolled out thin and cut into squares. Inside I placed a couldn't be easier mixture of 1 package of Soyrizo and 1 tub of Tofutti better than cream cheese, all mushed together. I put a pretty big dollop of filling in each one and pinched then together at the top. I baked them on a cookie tray lined with foil, and sprayed with cooking spray, for about 20 minutes at 350. Half way through baking I brushed them with olive oil. These things got ate up like they were crack!
So, I wanted to make them again yesterday, but didn't have all of the same ingredients. It was 108 degrees outside, and I was still hungover from the previous night's adventures, so I wasn't about to get dressed and go to the market. I improvised.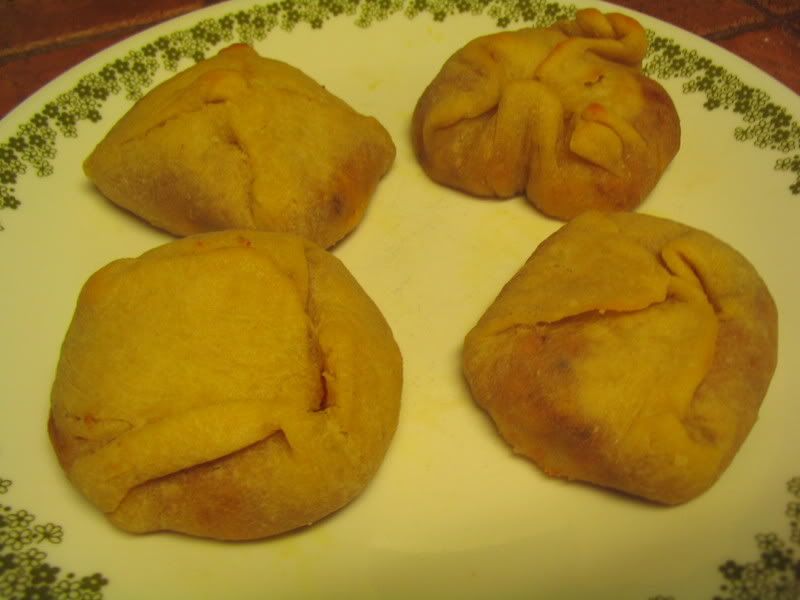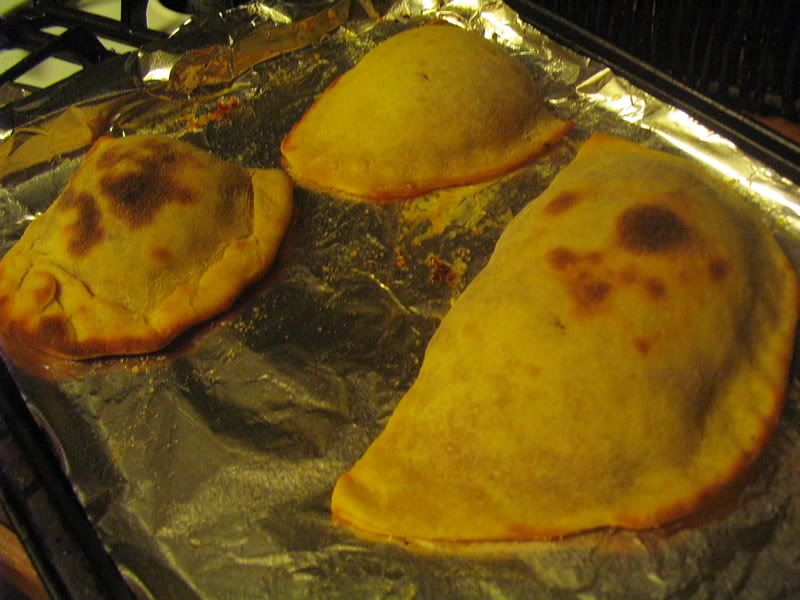 Same idea with the dough...rolled out and cut into squares, but this time for the filling I used: 1 cup of TVP granules, reconstituted in the microwave with 1 cup of water and 2 packets of Taco seasoning plus some extra cumin, I also added 1 block of extra firm Tofu crumbled and mashed into the mix and some vegan sour cream and a little nooch. Damn if these weren't better than the originals...I was in hangover mode...so I made a few bitesized ones and A HUGE CALZONE SIZED ONE!!! Good eats, for sure.