Here's a new one. I made it wheat free by using Brown Rice Flour, but if you do not have a wheat allergy, feel free to use whole wheat flour instead.
Uncooked:
Baked: (Baking works just fine, but as always, I like mine better fried.)
Fried: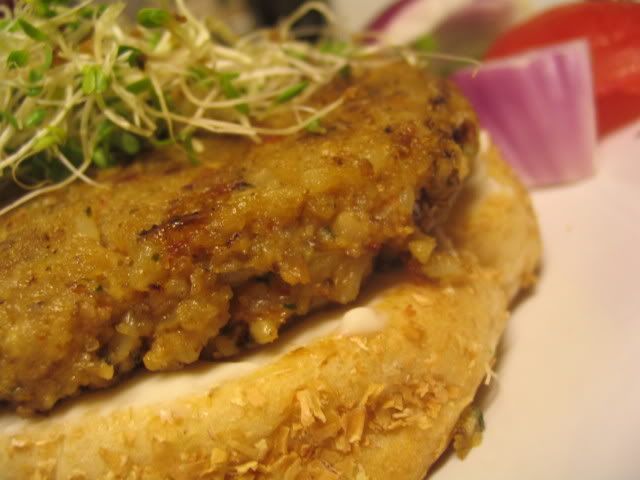 The Recipe

Sundried Tomato & Pesto Burgers:

(makes 8 patties)Ingredients
1 recipe prepared pesto (see below)
1 tbsp olive oil
8 oz mushrooms, sliced or chopped
1 medium white or yellow onion, chopped
2 cups prepared (already cooked) brown rice
1/2-1 cup brown rice flour
1/4 cup sundried tomato pieces (packed in oil) without the excess oil (just shake off the excess)
Directions:
Prepare your rice per packacge directions in lightly salted water. In a skillet, heat up 1 tbsp olive oil and saute the mushrooms and onions on medium high heat for 7-10 minutes, until fragrant, transluscent and reduced by half. Add the sauteed onions, mushrooms, tomato pieces, rice and pesto to a food processor and pulse until well combined but still a little chunky. Transfer to a mixing bowl. Depending on the moisture content of your rice, onions and mushrooms add in the flour a little at a time until a good constistency for forming patties is reached. Knead together. Refrigerate for at least 20 minutes, so the flour can absorb the flavors and moisture of the mixture. Form into patties and cook as desired. If baking, use a nonstick cookie sheet, or make sure to spray with cooking spray, and bake at 350 for 15 minutes, flip and bake an additional 15. If frying, make sure there is enough oil in the pan to prevent sticking and fry over medium high heat for about 4-5 minutes per side.
For the Pesto
(I usually double the recipe, using 1 for the burgers, and reserving 1 for later, to spread on the toasted bun, or throw on some pasta.)
Ingredients
14 (appx) large fresh basil leaves
2-3 garlic cloves
1/2 tsp course sea salt
1 tbsp toasted pine nuts
1 tbsp walnut pieces
1 tbsp nutritional yeast
3 tbsp olive oil
Directions:
Add all ingredients up to the oil to a food processor and process until a puree is formed. Drizzle in the oil and pulse a few more times to combine.