My business partner, and friend, Blair, turns 45 on Friday, so I made him 45 cookies.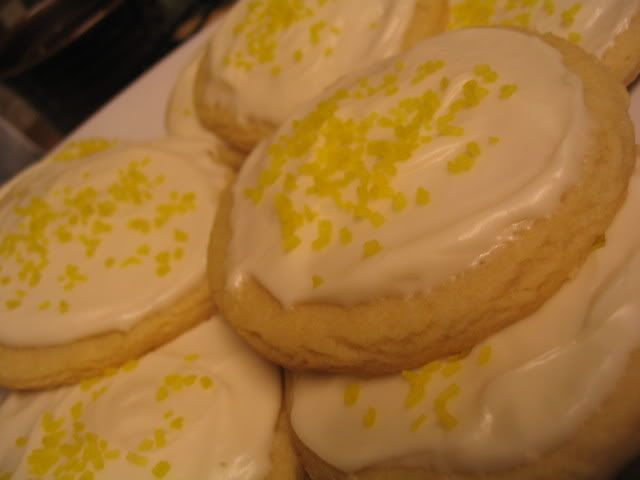 I used Orangeluna's
Soft Sugar Cookie
recipe that she posted on the ppk almost a year ago. I frosted them with Lemon Creem Cheeze frosting and sprinkles.
Soft Sugar Cookies by Orangeluna

3 TBL extra firm silken tofu (morinu) mashed with a fork,
or pureed in processor/blender
1/2 c (one stick) margarine
1 tsp Vanilla
1/2 c sugar
1 and 1/4 c flour
1 tsp baking powder
1/4 tsp salt
Cream margarine and sugar for about 5 mins until fluffy.
Add mashed tofu and vanilla. Mix well. Sift the flour,
baking powder and salt into the mixture.
You can either roll out the dough and use
cookie cutters or make cookie dough balls
and flatten the dough with your hand onto
an ungreased cookie sheet. You want the dough
to be almost the thickness you want your cookie
because these don't rise much.
Bake for around 10 mins in 350 degree oven.
Other stuff: You might need to adjust the flour
a bit if the dough feels too wet. And these cookies
aren't super sweet. If you like them that way, or
if you aren't frosting them, you might want to add
2 more tablespoons sugar. And these REALLY aren't healthy.