...to have fun with phyllo!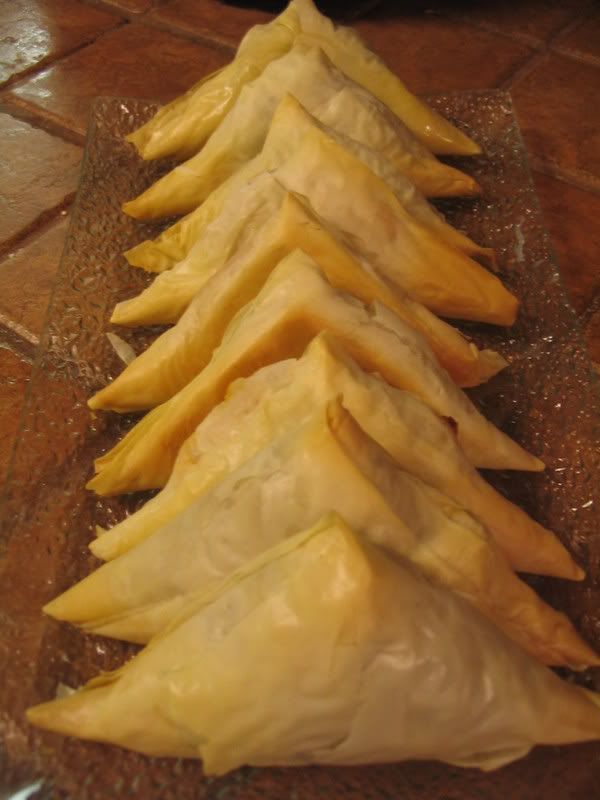 An army of tasty triangles, all lined up and ready for duty!
After reading in
The PPK
forums that I am not alone in thinking a Saturday night at home cooking with my honey is more fun than going out to a stinky bar to spend way too much money on crappy beer...last night we decided to stay home and have fun with phyllo.
I have a humble kitchen, so we had to invent a work station by placing a door on top of a table to give us ample space to work.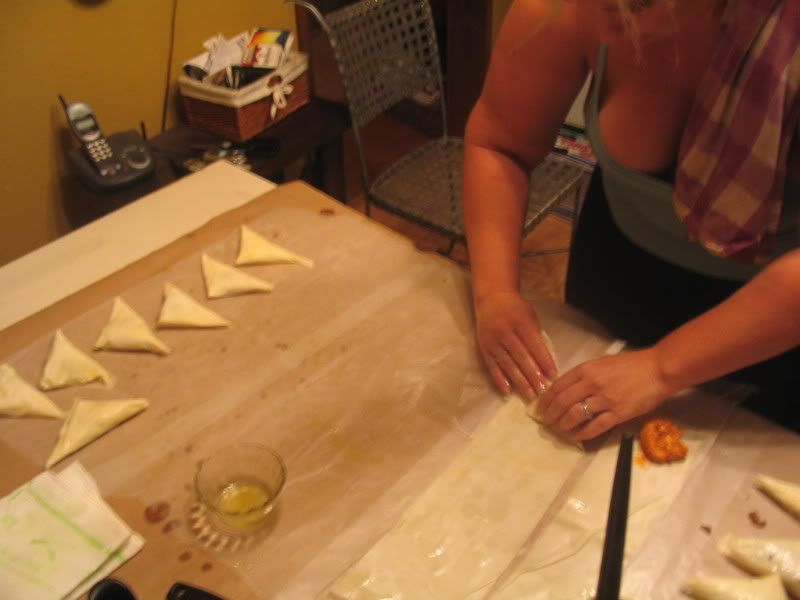 I had every intention of making the VwaV Spanikopita, but alas, no fresh spinach at the grocery. Damn. So I improvised and made myself 2 varieties. One filled with the very popular (at least around my house!) Meximosa stuffing of soyrizo mixed with tofutti better than cream cheese and another filled with a delightfully sweet and savory mixture listed below: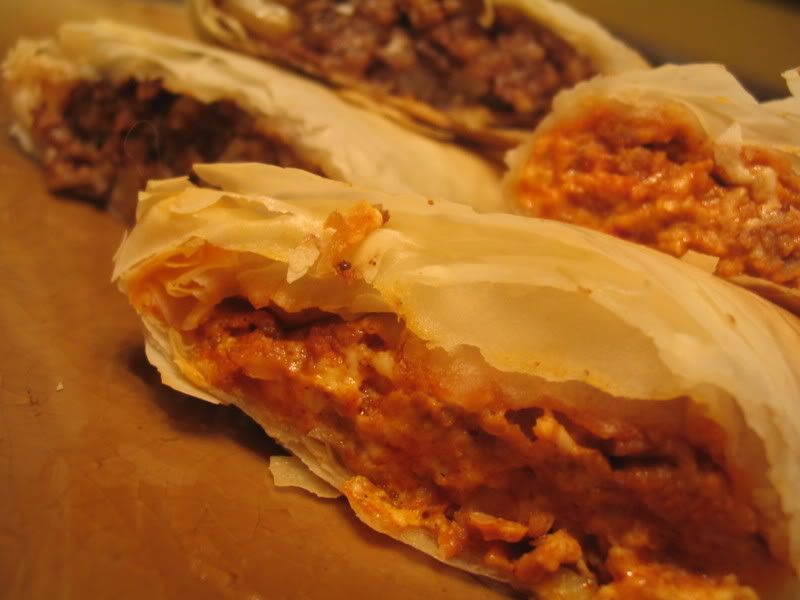 Soyrizo mixed with Tofutti Better than Cream Cheese
Delightful Mushroom Stuffing:
Delightful Mushroom Stuffing:
(makes enough filling for 9 phyllo triangles)
Ingredients:
1 tbsp olive oil (for sauteing)
1 8oz package mushrooms, chopped
1 medium yellow onion, chopped
3 cloves garlic, minced
2 oz (about 1/2 cup) walnut pieces
1/2 cup cashews (ground up)
1/4 tsp cardamom
1/4 tsp cinamon
1/4 tsp paprika
1 tsp garam masala
2 additional tbsp olive oil
1/4 cup pine nuts
Sea salt and frewsh cracked pepper to taste
Directions:
Heat oil in a skillet and add the mushrooms, onions and garlic, saute until fragrant and the mushrooms have reduced by about half. Add all other ingredients excepts salt, pepper and pine nuts to a food processor and pulse a few times, so that the mixture is chopped well, yet still a bit chunky. Fold in the pine nuts and add salt and pepper to taste.
Follow the instructions in VwaV for phyllo triangles in the directions for spanikopita...which, as I stated before, was what I had intended to make in the first place.