Another burger. This time, it's cornbread meets burger to make a spicy jalapeno sammy drenched in nacho cheezy sauce.
Jalapeno Cheddar Burgers
I was so impressed with the texture of the ho'made ice cream the other night I decided to alter the recipe a little bit and make pudding. I haven't had pudding since I wen't veg, so I am pretty excited about this.
topped with berry preserves and a mint leaf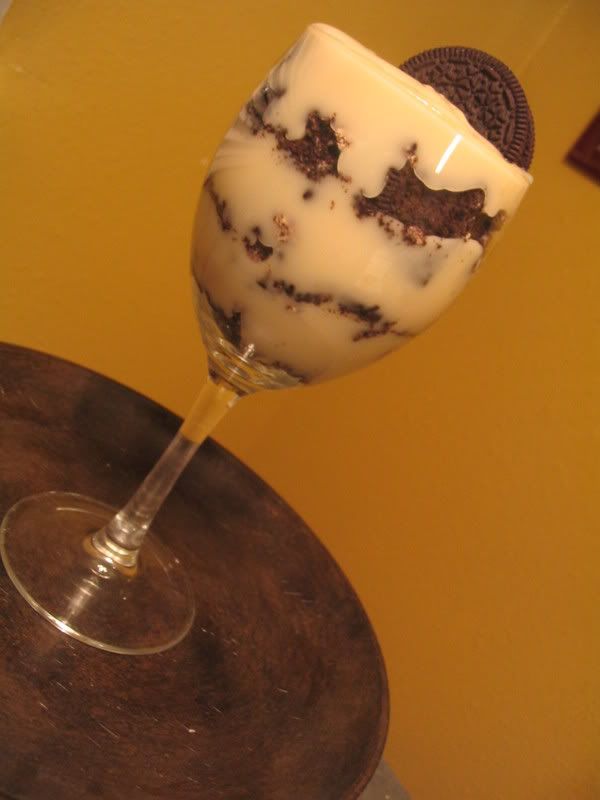 As an Oreo cookie parfait!
Coconut Vanilla Pudding
(Based on the recipe for Cookies & Cream Ice cream at
www.veganicecream.blogspot.com
)
Ingredients
1 14 oz can of Coconut Milk
1 1/4 cup vanilla soy milk
1 cup raw sugar
1/4 cup arrowroot powder
1 tbsp vanilla
Directions
Mix the arrowroot into 1/4 cup of the vanilla soymilk to create a slurry and set aside. In a saucepan mix the coconut milk, the remaining soymilk and the sugar. Bring to a boil. As soon as it begins to boil, remove from the heat. Stir in the arrowroot slurry and stir until it thickens. Add in the vanilla and continue to stir. Immediately pour into dessert cups and refrigerate to cool and continue to thicken. Garnish with fresh berries, make a parfait, or do whatever floats your boat.