I've been eating leftover soup, and cold cereal for the last 2 days. Not very exciting. But you know what is exciting?
500 Vegan Recipes
comes out on November 1! That's less than 2 weeks away!
Here's a little teaser to get you as excited as I am:
Seitan en Croûte
A juicy, savory seitan wrapped in a flaky pastry crust… Need we say more?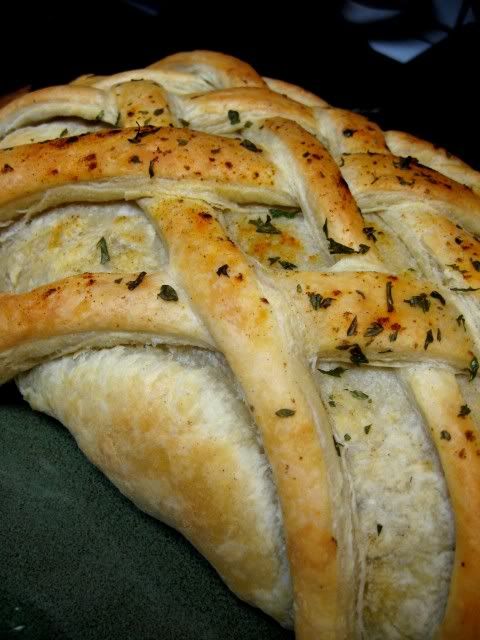 Inside Shot: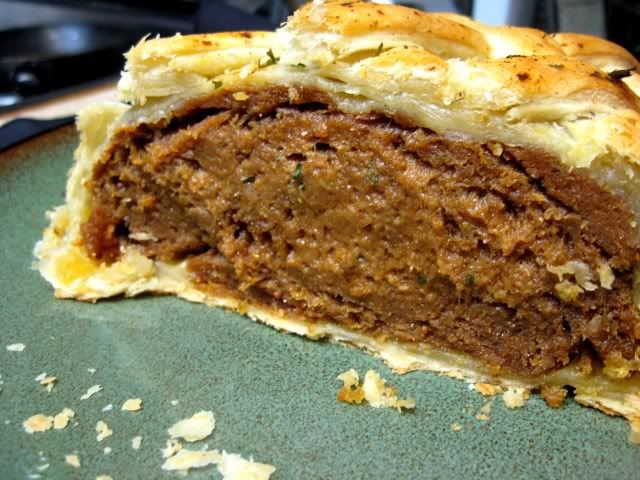 The Recipe:
2 cups (288 g) vital wheat gluten flour
1 cup (120 g) whole wheat flour
1/4 cup (30 g) nutritional yeast
1 teaspoon dried parsley flakes
1 teaspoon paprika
1 teaspoon garlic powder
1/2 teaspoon black pepper
1 cup (235 ml) beef flavored vegetable broth (or plain veggie broth)
1/2 cup (120 ml) extra-virgin olive oil
1/4 cup (60 ml) soy sauce or tamari
3 tablespoons (50 g) tomato paste
1 tablespoon (45 g) prepared stone ground mustard
2 teaspoons liquid smoke
2 sheets vegan frozen puff pastry
Preheat oven to 350°F (180°C, or gas mark 4).
Have ready a baking sheet lined with parchment or a silicone baking mat such as Silpat.
In a large mixing bowl, mix together, gluten flour, wheat flour, nutritional yeast, parsley, paprika, garlic powder, and pepper.
In a separate bowl, mix together broth, oil, soy sauce, tomato paste, mustard, and liquid smoke.
Add wet to dry and knead together until well incorporated and until moist dough forms.
Let rest 20 minutes.
Thaw puff pastry according to package instructions.
Form into a loaf (similar to a meat loaf shape) and place in the center of the baking sheet.
Bake, uncovered, for 35 minutes. Remove from oven and let cool slightly.
Increase the oven temperature to 375°F (190°C, or gas mark 5).
Cover the loaf entirely with one of the pastry sheets, tucking the edges underneath the loaf.
Slice the other sheet into 10 even strips for weaving. Weave the strips, on the diagonal across the top of the loaf. Tuck loose ends under the loaf.
Sprinkle a little paprika and parsley on top for color.
Return to the oven and bake an additional 20 to 25 minutes, or until pastry is fluffy and golden brown.
Yield: 1 loaf (about 8 servings)