One might think that living in Southern California would mean that there are hundreds of thousands of vegans just knocking down my door to eat with me. Sadly this just isn't the case.
I have a couple of close friends who are vegetarian (Hi Jill, Karem and Brent!) and my cousin Leah and her husband, Tim, are vegan, but they live all the way in LA. My friend Danna moved way up to the mountains and Jenn is also in LA. What's a lonely OC vegan supposed to do?
Well, mostly, I cook. Not a bad thing, really, as it saves a ton of money, and I pretty much can guarantee I'm going to enjoy what I make.
But, sometimes it's nice to be served. To walk into a 100% vegan restaurant and be able to order anything off the menu without having to ask 100 questions. Sure, I can bring any of my (non-vegan) friends or family to a vegan restaraunt. But, that's just not as enjoyable as going to one with someone who will really appreciate the experience as much as I do.
So imagine how excited I was to find out that
Jess (of Get Sconed!)
was going to be in town for a few days on business!
One might also think that Southern California is swimming with vegan restaurants. Sadly, this is also not the case. We have a few absolutely fantastic joints here and there, but there is a good amount of driving to get from one to another.
So, I picked up Jess, and we headed out for a good forty minute drive to
Native Foods
in Costa Mesa. Sure, there was a closer location, but the Costa Mesa location is tops. It's in a tent. It's simply rad. Lucky us. Chef Tanya served up our meals personally on that day. Once again, rad. I didn't take any pictures, but I know that Jess did, and she promised to post about it sometime during 'mofo, so check in on her to see for yourself. We were both very happy with our meals, and with bellies full we headed back to the beach.
Picture Stolen from the Native Foods website, note the cool chalkboards, usually filled up with AR slogans:

The following day, I met up with Jess again, and this time, we headed for the monolithic Irvine Spectrum to check out the
Veggie Grill.
Once again, there is a closer location, but this one was next to the ferris wheel!
Picture stolen from an article in the paper, and those Sweetheart Fries ARE as good as they look: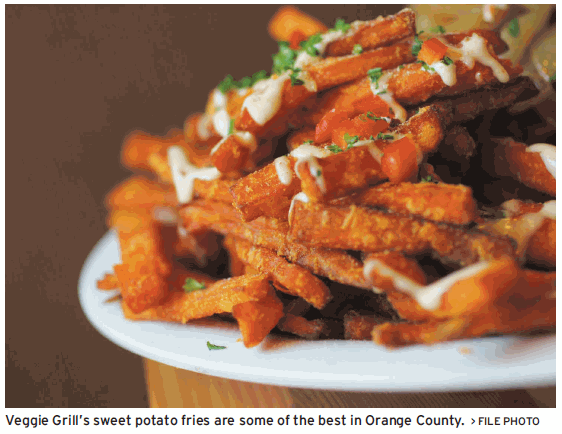 After lunch, we headed to the Native Foods in Aliso Viejo for dessert.
Thanks, Jess, for letting me drag you all around the OC, just to eat!