I am trying out a bunch of new things this year, as well as some old favorites. I have a slew of baskets and tins to fill, and packages to mail out, so I am starting now (Don't worry, I won't let baked goods sit around until Christmas, lots will be given out this Friday, and then I will do a whole new batch.)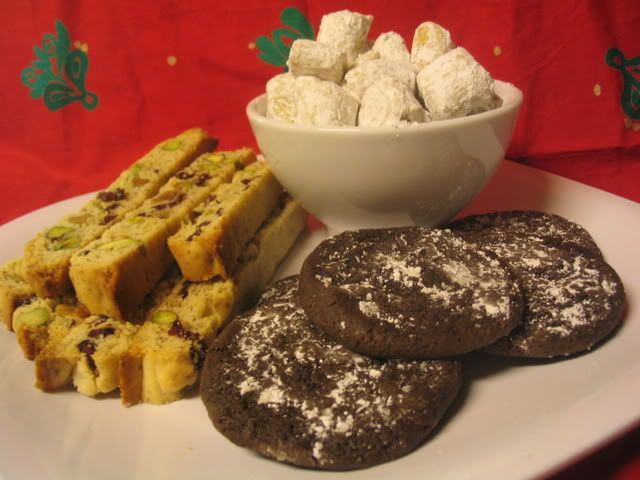 The first thing I made was the
Almond-Pistacio-Cranberry
biscotti from
Veganomicon
.
SOOOOO GOOOOOD!!!
They are not too sweet and have the perfect biscotti shape and texture. Plus, by using the pistacio-cranberry variation, they are already perfectly decorated for Christmas.
Next up are these
Agave-Ginger Bites
that I veganized out of good old
Better Homes and Gardens Magazine
. So easy and quick. They are perfect for gift bags. Each recipe makes 240 little cookies!!! They are reminiscent of pfeffernusse, without all the pesky eggs.
Here's the modified recipe I used:
Agave-Ginger Bites

Ingredients
(makes 240 bite size cookies)
1/3 cup Agave Nectar
1/4 cup margarine (I use Earth Balance)
2 cups all purpose flour
1/4 cup sugar
3 tbsp finely chopped crystallized ginger
1/2 tsp baking soda
1/4 tsp ground white pepper
1 egg substitute (I used ener-g for this recipe because of the beaten egg in the original instructions, but I am sure a flax egg would have worked too)
powdered sugar for rolling
Directions
1. In a small sauce pan, combine agave nectar and margarine. Heat and stir until margarine is completely melted. Remove from heat, pour into a large mixing bowl and allow to cool to room temperature.
2. In a seperate bowl sift together flour, sugar, ginger, baking soda and pepper.
3. Mix egg replacement into the Agave mixture.
4. Gradually stir or knead the flour mixture into the agave mixture. (I found I needed a little more moisture to get my dough to come together into a ball, so I added a few tbsp of soy nog.)
5. Cover and chill for at least an hour. (Or overnight if you want to make it a day ahead.)
6. Preheat Oven to 350 degrees.
7. Divide dough into 12 equal portions. On a lightly floured surface, roll out each portion into approximately 10 inch long ropes. Cut each rope into 1/2 inch pieces.
8. Place each piece 1/2 inch apart on an ungreased cookie sheet (I use parchment or silicone liners.) and bake for 6-8 minutes or until tops are lightly browned.
9. Cool on paper towels.
10. Roll in powdered sugar.
Store in an airtight container in layers seperated by wax paper at room temperature up to 3 days. Freeze up to 3 months!
And finally, for today, I made these
Bittersweet Chocolate Slices
veganized from
Cooking Pleasures
magazine, which is published by the Cooking Club of America, of which I am a member.
Here's the modified recipe I used:
Bittersweet Chocolate Slices

Ingredients
(makes about 3 dozen)
1 oz unsweetened chocolate
3/4 cup sugar, divided
1 cup all purpose flour
1/2 cup unsweetened cocoa powder
1/8 tsp salt
1/8 tsp baking soda
9 tbsp margarine, cut up or cubed if you are lucky enough to have sticks (I use Earth Balance)
2 tbsp soy milk (or any non dairy milk)
1/2 tsp vanilla extract
powdered sugar for sprinkling
Directions
I was excited to finally make a cookie dough using my food processor! I had never done that before. Hopefully you have a food processor, otherwise I am sure you could make this work with a mixer?
1. Pulse chocolate and half of the sugar in food processor until coarse crumbs form. Add remaining sugar, flour, cocoa, salt and baking soda. Pulse to combine. Add margarine. Pulse several times. With processor running, add soy milk and vanilla. Process until dough clumps around the edge of the bowl or blades. Place dough on the counter and knead a few times to blend.
2. Form dough into a 9 inch log 1 3/4 inches in diameter. Wrap and refrigerate for at least four hours, or overnight.
3. Preheat oven to 350 degrees. Line baking sheets with parchment or silicone baking sheets. Cut dough into 1/4 inch slices and place on cookie sheet 1 inch apart. Bake for 12-15 minutes (mine only took 12.) The cookies will puff up and deflate. They're done about 1 1/2 minutes after they deflate.
4. Cool on cookie sheets for about 5 minutes, then transfer to wire racks to cool completely. Dust with powdered sugar.
Store in an airtight container.