Kittee makes the cakes that make people smile. Her cakes embody all that is important about cake. That it be fun, tasty and home made with love! Inspired by her birthday cake, I set out to make a holiday cake that would make the people happy. I am pretty sure it worked. See for yourself:
Did you smile?
Here's an inside shot: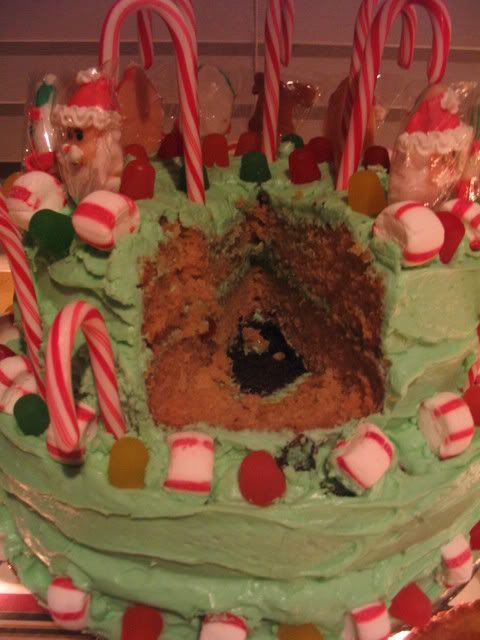 The top two layers are Kittee's
"Non-Chocolate Cake"
and the bottom two layers are Kittee's
"Chocolate Wacko Cake."
Both recipes are available in her awesome 'zine,
Papa Tofu
. It is frosted with my own
Creem Cheeze Frosting
(Which is simply equal parts Tofutti Better than Cream Cheese, Earth Balance a teaspoon or 2 of vanilla extract, depending on how much I am making, and enough powdered sugar to get the right consistency.) which I added green food coloring to. I decorated it with Christmas themed candies (which were all vegan, as far as I could tell.) and it became the star of the buffet.
I hope I have made Kittee proud.
(There was more food...I'll post about it later, off to work.)