Cardamon Sugar Cookies
(veganized from
Cooking Pleasures
magazine)
Ingredients:
3 3/4 cups all purpose flour
1 tsp baking soda
1/2 tsp salt
2 cups sugar
1 cup margarine
1 tsp ground cardamom
2 egg replacers (Flax or Tofu eggs work well here, or just use Ener-G)
1 tbsp vanilla extract
Additional Soymilk or other non-dairy milk to help get the dough to come together (I needed about 1/4 cup)
Spice Mixture:
1/4 cup sugar or sparkling sugar
1/4 tsp ground cardamom
3 dashes salt
Directions:
Whisk Flour, Baking soda and salt in a medium bowl. Beat 2 cups sugar, butter and cardamom in a large bowl at medium speed for 3-4 minutes or until light and fluffy. Beat in the egg replacers and vanilla. At low speed, beat in the flour mixture, just until blended. Add additional soy milk if needed to get the dough to come together. Place dough on the counter and knead just until smooth. Wrap in plastic wrap and refrigerate until firm enough to roll, overnight or up to 2 days. Preheat oven to 350 degrees. Line baking sheets with parchment, silicone liners, or spray with non-stick spray. remove dough from refrigerator and let stand at room temerature until able to roll but still firm. On a lightly floured surface, roll out dough to about 1/8" thickness. Use cookie cutters to cut out desired shapes. Place on cookie sheets. Sprinkle, liberally, spice mixture onto the cookies. Bake at 350 for 8-10 minutes or until pale golden brown at the edges. Let cool a few minutes on the cookie sheet before transferring to a wire rack to cool completely.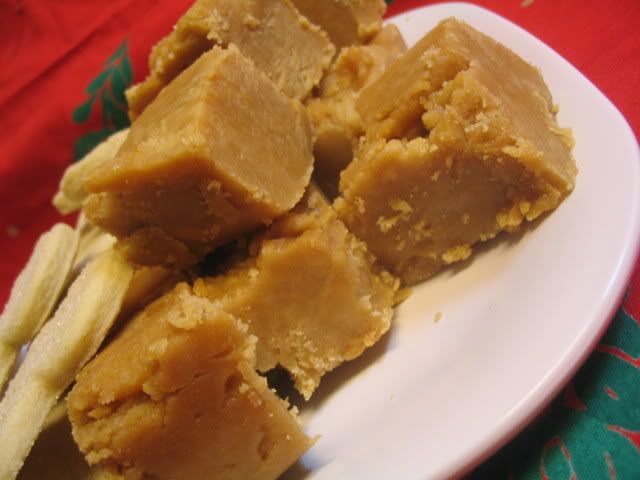 Kittee's Peanut Butter Fudge
My mom has been making peanut butter fudge every year for Christmas since I was a wee little girl. It's her specialty. I sent her Kittee's recipe last year, and now she uses this recipe. IT'S SO EASY AND TASTES WONDERFUL! I searched around online to link to it, but couldn't find it. I think I got it off of the PPK last Christmastime. Here is Kittee's Famous Peanut Butter Fudge recipe.
Ingredients:
1 cup peanut butter
1 tsp vanilla
2 cups sugar
1/2 cup water (or soymilk)
Directions:
Grease a 8x8 or 9x9 pan or caserole. In a large bowl, place peanut butter and vanilla. Put the sugar and water (or soymilk) in a sauce pan. Bring to a boil. Boil hard for exactly one minute. Dump all at once into the peanut butter mixture and stir quickly to blend. It sets up really fast, so pour into the greased pan quickly, and allow to cool completely before enjoying.