I apologize for not keeping up with blogging, but I have a good excuse!
I am not even done yet!
Here it is, Christmas Eve, and I still have baking, knitting and wrapping to finish. It seems I do this to myself every year. I think I am on schedule, but I always end up running out of time!
Anyhow, we went to my mom's house over the weekend to celebrate an early Christmas out on her ranch in Tehachapi. She really does deserve a special mom of the year prize for making sure there was enough for me to eat. She also introduced me as "the Vegan daughter" to her friends and neighbors. I guess that beats some other names she could've given me, right? In Tehachapi, in was an average of about 30-40 degrees while we were there. For me, a SoCal native, that was pretty darn cold. But even in the cold weather, my mom's true nativeness came out and she made a wonderful
Mango Salsa
that I am going to share with you now. It was so very yummy!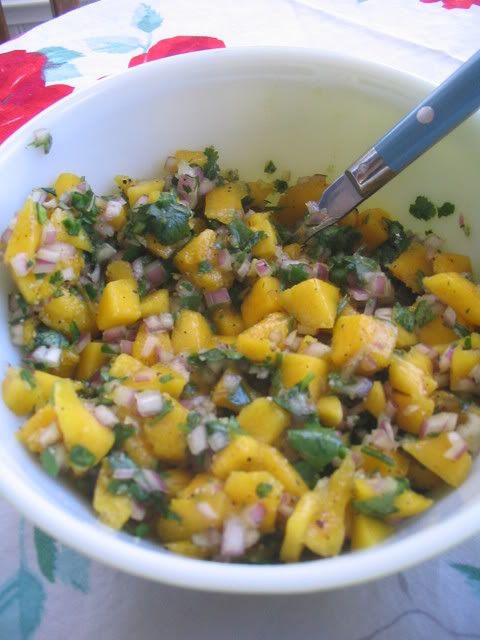 Mom's Mango Salsa
Mango Salsa
Ingredients:
1 cup mango, diced
½ cup finely diced cilantro
½ cup red onion, finely diced
1 teaspoon garlic powder
½ teaspoon salt (use more if needed)
½ teaspoon black pepper
1 serrano chili, seeded and veins removed, finely diced
Directions:
Mix all ingredients and refrigerate overnight to enhance flavor. Serve with tortilla chips.
Since we brought the doggies up with us to her house, she thought it would be a good idea to bake them some treats too. Here is my mom's secret recipe for
Yummy Minty Doggie Bones.
She even wrapped them in festive little celo bags and made them in the shapes of gingerbread men. Isn't my mom just the best?
Minty Dog Bones
Minty Dog Bones
Ingredients:
1 Tablespoon Vegetable Oil
1 Cup Water
2 ½ Cups Whole Wheat Flour
½ Cup Oatmeal
2 Tablespoons Dried Mint
1/3 Cup Chopped Parsley
Directions:
Mix oil and water, slowly add flour and other ingredients. Roll dough out on a flat surface.
Cut with cookie cutters. Bake 35 minutes at 325 degrees. I usually turn them half way
through to make sure they don't brown too much on one side. Makes about 2 dozen depending
on the size of your cookie cutter.
For breakfast on Sunday (aka Christmas) morning, we all gathered around the tree to open presents and then we all had a hearty breakfast of
Maple Corn Fritters.
Yep, I made the manly men eat vegan fritters. Gasp! They actually liked them!
Maple Corn Fritters
Maple Corn Fritters
(from
Cozy Inside
)
makes 4 HUGE fritters or 8 smaller ones
Ingredients
1 cup cornmeal
1 cup all purpose flour
½ tsp baking soda
½ tsp baking powder
¼ tsp sea salt
1 cup soy milk
¼ cup pure maple syrup (I use Grade B)
Equivalent of 2 eggs (flax eggs or ener-g works well here)
1 cup frozen or canned corn kernels
Directions
Whisk together corn meal, flour, baking soda, baking powder and salt in a large bowl. In a separate bowl mix together soy milk, syrup and egg replacers. Add wet to dry and mix well. Fold in corn kernels. Let mixture sit about 5 minutes before cooking. Heat a cast iron or heavy bottomed skillet on high heat with about 1 tbsp of oil. Ladle in the batter. Cook as you would a pancake, flipping when the bubbles are popping and the edges are curling. No longer than 1-2 minutes per side. Serve warm, drowning in Earth Balance and maple syrup. Grade B, of course.
And finally, here is a very easy way to prepare tofu.
Cedar Smoked Tofu
. So simple.
Cedar Plank Smoked Tofu
First, find yourself a food safe cedar plank. Soak it in water for at least an hour, more if you have time. Preheat your ofen to 200 degrees. Slice up a block of extra firm tofu and arrange it on the plank. Place the plank in the oven and bake for at least 90 minutes and up to 3 hours. The outside of the tofu will brown and become firm. The inside will stay moist and chewy. Use the tofu in any recipe. I just diced mine up and mixed it in with some green beans and garlic. YUMP!