My goodness! I don't know if it is even possible to add any more gooey goodness to these ones!
Ingredients:
For the batter:
1/2 cup Margarine
1/2 cup Dark Chocolate Morsels (Semi Sweet)
1 cup sugar
Equivalent of 2 eggs (I use Bob's Red Mill or Ener-G)
1/3 cup Peanut Butter (I prefer creamy)
1 tsp vanilla extract
1 tsp chocolate extract (or more vanilla)
2/3 cup all purpose flour
1/4 tsp baking soda
1 additional cup Dark Chocolate Morsels (Semi Sweet)
For the topping:
1/4 cup vegan cream cheese (I like Toffutti Brand)
1/4 cup Peanut Butter
1/8 cup soymilk
Directions:
Preheat oven to 350 degrees. In a sauce pan, melt margarine and 1/2 cup chocolate morsels on LOW heat, stirring until melted. Remove from heat to cool. Line an 8x8x2 baking dish/pan with aluminum foil and LIGHTLY spray with cooking spray and set aside. Stir sugar into melted chocolate mixture until dissolved. Add peanut butter, egg replacers and vanilla. Mix well, but don't overmix. In a Seperate bowl, mix together flour and baking soda. Add Chocolate mixture to the flour and combine. Fold in the additional cup of Chocolate morsels. Spread batter evenly into prepared baking dish. For the topping, combine the peanut butter cream cheese and soymilk in a saucepan and heat on LOW until just warm enough to combine well and become easily spreadable, maybe 2 minutes max. Spread evenly accross the top of the brownie batter. With a butter knife, drag through the topping, back and forth, to create the marbling effect on top. Bake 25-35 minutes. These brownies are gooey inside, so the "toothpick in the center trick" doesn't work for this one. Trust your gut on the doneness. You'll know. If you want a more cake-like brownie...Try upping the flour to 1 full cup, upping the baking soda to 1/2 tsp and adding in 1/2 tsp baking powder as well. In addition, try "whipping" your egg replacers to semi stiff peaks (this works better with Ener-G than with Bob's Red Mill) and folding them into the batter just before pouring it into the pan!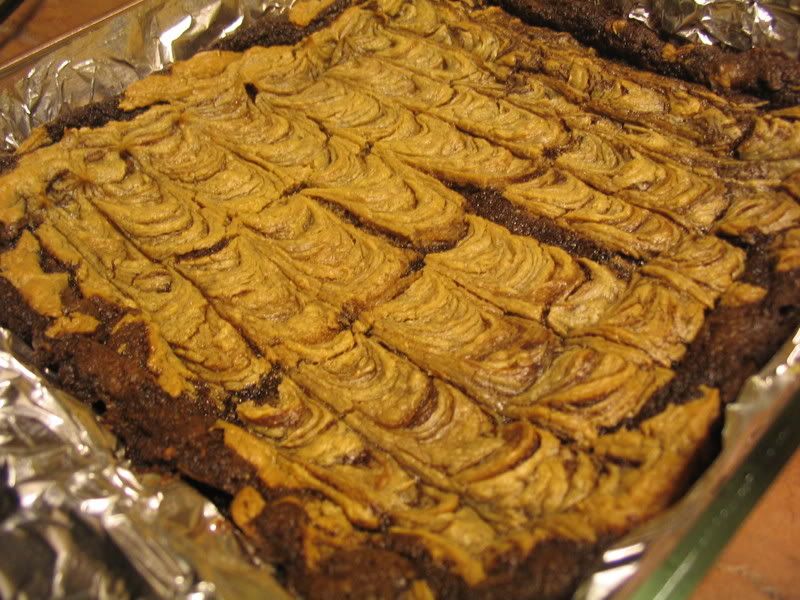 Just out of the oven.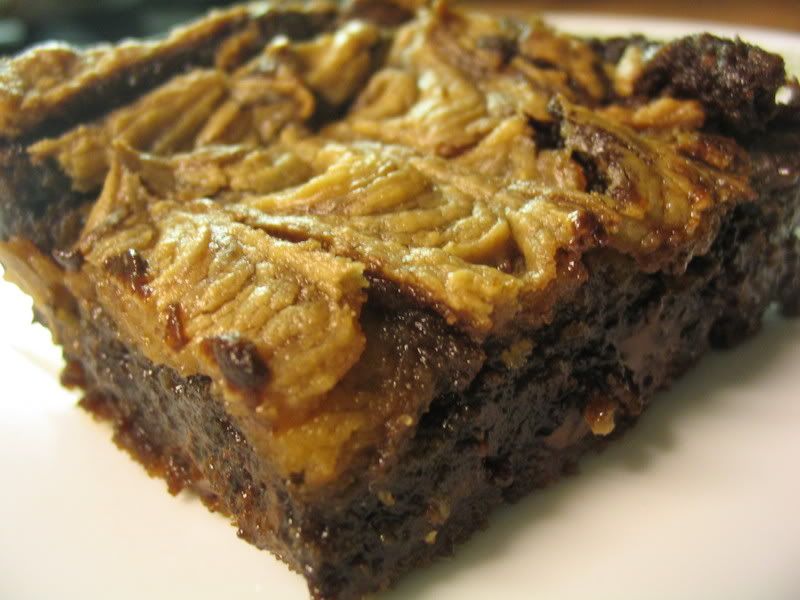 Ready for me to stuff in my face!