Get in my belly!
Yep, green burgers. This is my first attempt at an edamame burger...it firmed up quite nicely and fried up nice and crispy. Thankfully so, since this recipe made 16 patties! I fried up 6 tonight, and then froze the rest. I'm gonna try baking them as well (less fat, ya know?) Oh, and feel free to half the recipe if you don't need 16 patties!
Edamame Burgers
Ingredients:
2 cups of shelled and frozen edamame
1 15oz can garbanzo beans, with the liquid
1 8 oz package of sliced mushrooms (about 2 cups)
1/2 cup finely ground raw cashews
1/2 cup nutritional yeast
4 cloves garlic
1/2 tsp ground cumin
1/4 tsp liquid smoke (optional)
1 tsp Bragg's Liquid Aminos (or soy sauce)
+/- 3 1/2 cups besan flour
Sea Salt and fresh cracked pepper to taste
Oil for frying
Directions:
Place the frozen edamame and the entire can of garbanzo beans, including the liquid in a saucepot to warm. This step is to defrost the edamame, if you use fresh or precooked edamame, you can skip this entire step. Place all ingredients, except the flour and oil into a food processor and puree until smooth. Into a large mixing bowl, pour the contents of the food processor. Slowly add the flour until a thicker consistency is formed. I originally started with 2 cups of flour, but ended up needing 3 1/2 to get the right consistency. Place the entire bowl in the fridge for 20-30 minutes to stiffen up and make it easier to handle when forming the patties. Form into to burger patties. Fry until golden brown on both sides. Freeze any uncooked patties between layers of wax paper.
Yield: 16 patties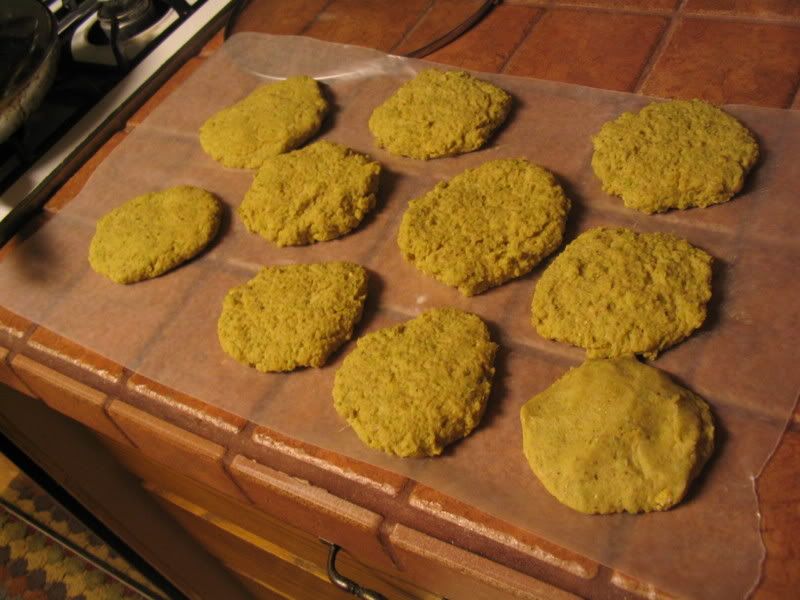 All pattied up and ready to cook!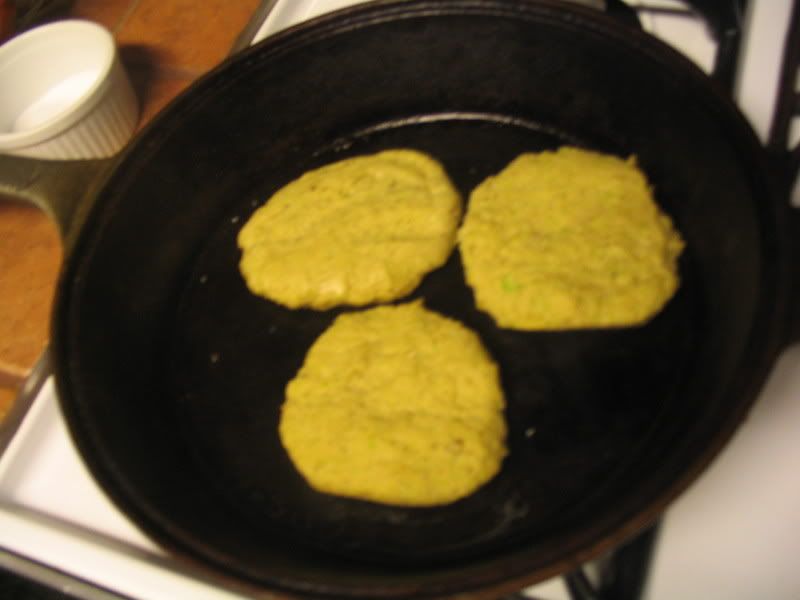 In the frying pan, almost ready!
Draining off the excess oil.
Wouldn't be a burger without a big ol' schmear of Vegenaise!