Once again, I am trying to recreate a dear love of mine. Macaroni and Cheese. I have tried many recipes. This one is a mixture of ideas from all of those. I think it came out pretty good.
I love me some mac and cheese!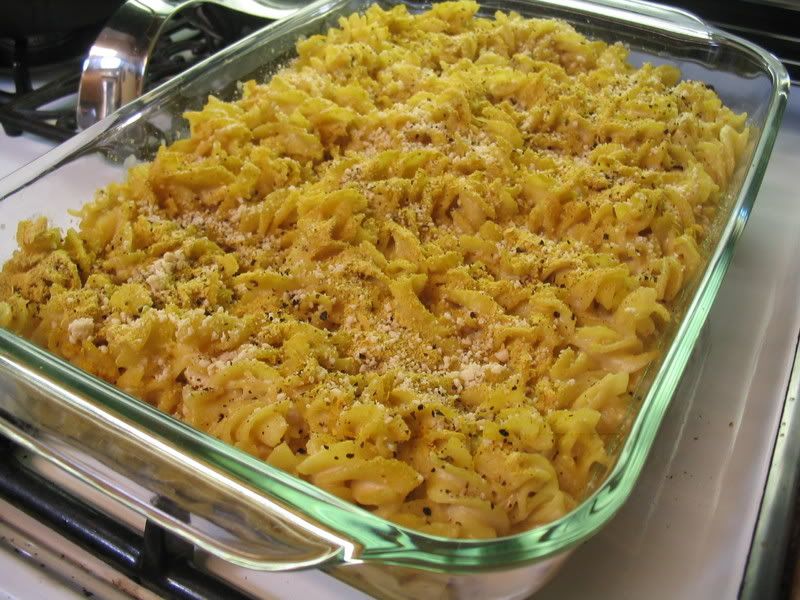 Baked Mac and cheese always seems to taste just a bit better then the one pot stuff!
MacUncheeze Casserole
For the Sauce:
2 cups soy creamer (I use Silk)
1/2 cup Nutritional Yeast
1 tbsp tahini paste
2 tbsp mellow white miso
1 tbsp onion powder
1 tbsp garlic powder
1 tbsp ground mustard
2 tbsp cornstarch
1/2 cup finely ground raw cashews
Sauce Directions:
Put all sauce ingredients into a blender and blend until very smooth. Pour into a saucepot and heat on medium heat, stirring constantly until it thickens
Other Ingredients:
1 lb pasta, prepared as directed in salted water
1/4 cup vegan margarine (I like Earth Balance)
1/4 cup Nutritional Yeast
1/4 cup finely ground raw cashews
a pinch of paprika
salt and pepper to taste
Directions:
Preheat oven to 350 degrees. Mix prepared and drained pasta with margarine until melted. Add prepared sauce, sprinkle in a pinch of paprika. Pour pasta into a 9x12 casserole and sprinkle the top with the nutritional yeast, cashews, salt and fresh cracked pepper to taste. Bake at 350 for 15-20 minutes or until the top is golden and crispy. Remove from the oven and let sit a few minutes before serving.
Yield:
10 servings