I was inspired by Troubled Tofu (link to her AWESOME blog on the left) a while back and have been playing around with the recipe for months. I think I have it perfected!
Although there is a lot of Tofu in this salad...the real star is the CRUNCH from all the fresh raw veggies in here.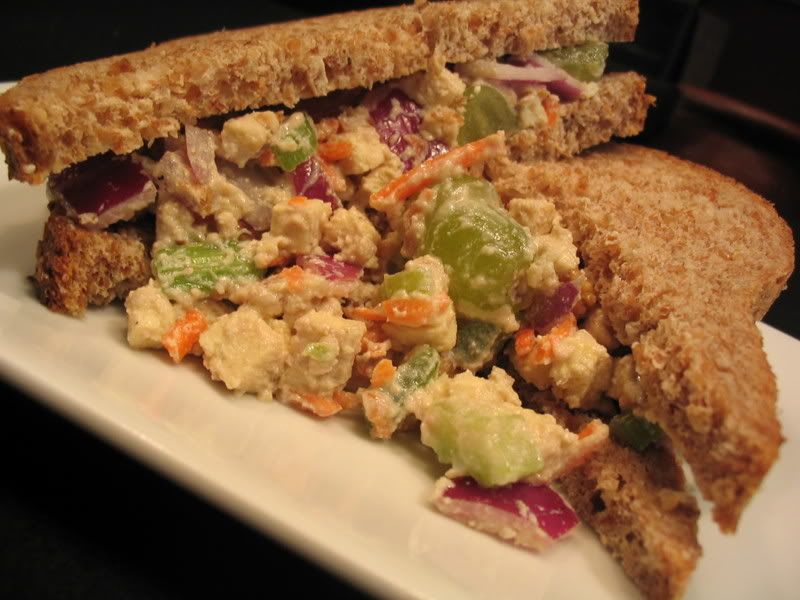 Here's the recipe:
Ingredients:
1 package extra firm tofu (pressed, drained and cubed into tiny little cubes...TINY!)
4-6 cloves of garlic, minced
2 tbsp olive oil
1/2 cup shredded carrots
1 medium red onion, chopped
2 stalks celery, chopped
1/2 cup walnut pieces
1 cup grapes (green or red, or even raisins), halved
1 cup vegan mayonnaise (vegannaise, or any brand, or make your own!)
Sea Salt and Fresh Cracked Pepper to taste
Directions:
Chop up the tofu into tiny, tiny, tiny little pieces. Add olive oil to a skillet on medium high heat and add garlic. Then add tofu. Saute until golden, about 7-10 minutes. Remove from heat and let cool. Add all other ingredients, mix it all up. Chill before serving. Serve on a sandwich, in a wrap, on a bed of greens, or eat it with a fork right out of the bowl!
BONUS:
Soy Mayo, from the "Hot Damn Hell Yeah" Cookbook. (pg11)
1 package tofu
1 tbsp cider vinegar
1 tbsp lemon juice
1 tbsp sugar
1 tbsp dijon mustard
1/2 tsp sea salt
1/3 - 1/2 cup olive oil
Place all ingredients except oil in a food processor or blender and puree on high speed a few minutes, until smooth. Add oil, a little at a time until desired creaminess and texture. Makes about 2 cups. Keep refrigerated. Lasts about a week.