I had a lot of pistacios. I wanted to make something with them. So I made this.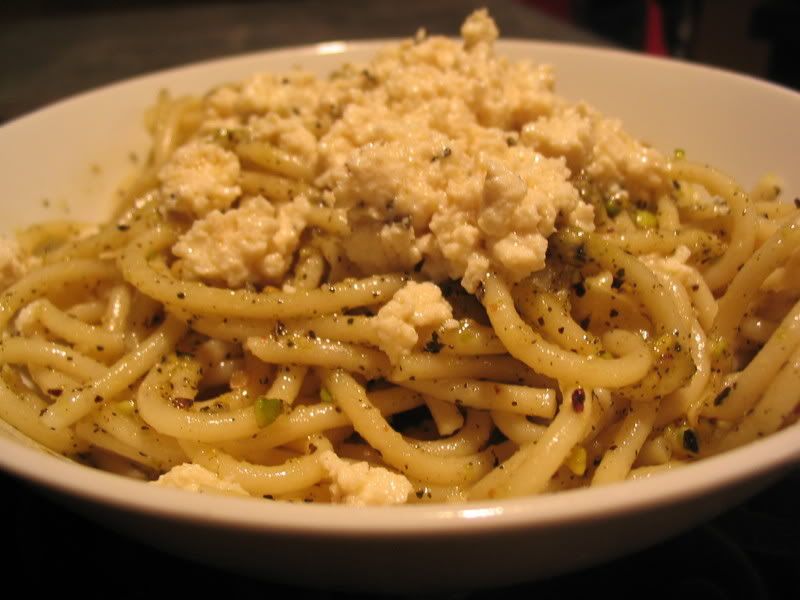 Pistacio Pesto topped with Easy Tofu Feta
Pistacio Pesto
Ingredients:
1/2 cup Pistacios, salted and roasted, shelled of course
1 cup raw pine nuts
2 Tbsp Basil, dried (fresh would definitely have been better)
1/2 cup Olive Oil
4 cloves garlic
Salt and Pepper to taste
Directions:
Place all ingredients in a food processor. Process untill smooth. Heat in a saucepan before serving. Serve over pasta, or spread on bread. Makes about 2 cups.
Easy Tofu Feta
Ingredients:
1 package Extra Firm Tofu, drained and pressed
1 tbsp dried basil (fresh would probably be even better)
2 tbsp lemon juice
3 tbsp olive oil
Salt and Pepper to taste
Directions:
Crumble Tofu into a bowl until it resembles feta. Add the other ingredients and mush it all together with your hands. Stores in the fridge for about a week in an airtight container. Use as you would any feta. On salads, pasta, sandwiches, or on crackers with the Pistacio Pesto.