I made this again today, this time with spinach and topped with Tofu Feta...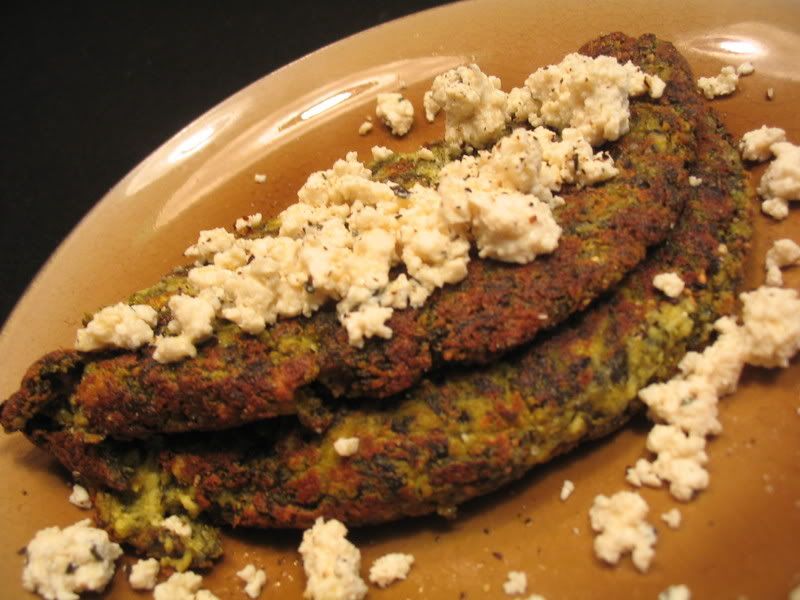 Spinach Tofu Omelet with Easy Tofu Feta
Here is the exact measures for the recipe:
Spinach Tofu Omelet (makes 4 - 8" omelets)
Ingredients:
1 package extra firm tofu, drained and pressed*
1/4 cup chickpea flour*
1 cup rice or soy milk*
1 15 oz can of spinach, drained
1/2 cup nutritional yeast*
1 tsp basil
1 tsp turmeric*
1 tsp garlic powder
salt and pepper to taste
olive oil for frying
Directions:
Crumble tofu into a medium to large size bowl. Add soy milk. Blend to the consistency of yogurt with a handheld immersion blender. (I suppose you could also do this in a regular blender or a food processor.) Add all of the other ingredients and mix well. Heat a frying pan on medium high heat. (I use an 8" pan to make a perfectly round 8" omelet) with about 2 tbsp of olive oil. Add the omelet batter and smooth out to about 1/2" thick. Fry until the edges are golden and crispy, and the omelet moves around as one unit when you shake the pan. Flip. (Flipping is tricky. I have no flipping skills, so I slide it out of the pan onto a plate, cooked side down, then put the pan on top of the plate, and flip the uncooked side of the omelet back into the pan.) Cook the other side for about 5 minutes.
*These are the main ingredients for the batter...from here you can probably add just about ANYTHING you want to your omelet.