Since I am allowed to write about anything I consider to be wonderful on the weekends, today I choose to write about one of my very favorite things...Macaroni and Cheese. Now, I won't claim that there is one perfect recipe for vegan mac and cheese, because there is something wonderful about all of them. I have at least four recipes that I use in regular rotation. It's just such a perfect food. It can be made simply and quickly, or as a complicated casserole. It can be plain, or with added veggies or crispy fried onions.
When I was in Portland for Vida Vegan Con, I had a couple of really awesome incarnations of the gooey carb loaded uncheezy stuff. First off I had a big plate of mac, along with a side of tater tots (ha!) at the Hungry Tiger Too. This stuff was darn tootin' good. Even better with the tots smashed into the mac giving it a little crunch. Yeah, it was pretty ridiculous. Ridiuclously delicious.
And then I was blown away by a burrito filled with mac and cheese, barbecue soy curls and onions from the Homegrown Smoker food cart. Simply known as the Macnocheeto, this amazing handheld delight left me speechless. I went back for a second (and bought 2 extra to bring to my sister and Kurt) because they are that good. And, yes, ridiculously delicious.
I mean, look at that thing! Not only was it amazing to eat, but it was also a genius idea. I mean, where else have you ever seen hand held mac? I have been wrapping up my mac and cheese in tortillas to take with me to work ever since.
And as food fads come and go (bacon makes it better, sandwiches made without any bread, deep fried butter) I am pretty excited about what seems to be the newsest and best craze ever. Mac and cheese on everything. I recently saw a Denny's commercial for mac and cheese grilled cheese sandwiches, I heard
Jason Ellis
talk about mac and cheese as a pizza topping on his radio show. And of course, don't forget about deep fried mac and cheese balls (Page 158 in Hearty Vegan!)
This is a trend I plan on getting behind 100%.
Watch out world. Mac and cheese is about to be in everything, and I am here to embrace it!
If you don't have your own favorite mac and cheese recipe, I say start out simply and build from there. Like I said earlier, I have at least 4 that I regularly use. You can try this one for starters:
Cheater Mac'n'Cheeze.
My quick, easy, cheater recipe for a creamy delicious bowl of kid-friendly mac.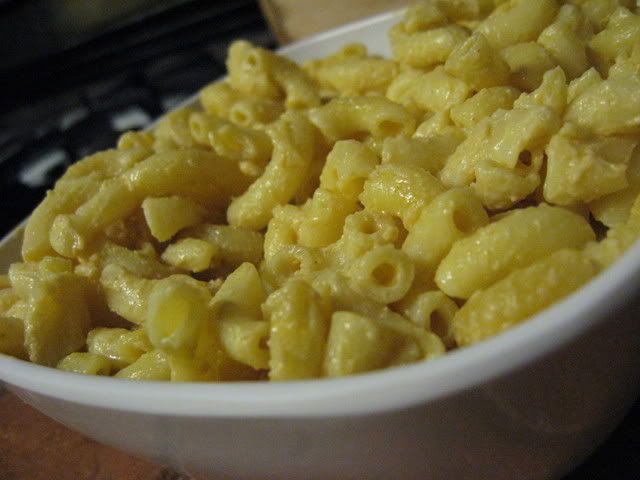 Ingredients

1 pound of elbow macaroni, prepared in salted water
1/2 cup vegan sour cream (like Tofutti Better than Sour Cream)
1/2 cup vegan margarine (Earth Balance, of course)
1/2 cup nutritional yeast
2 tbsp white miso
2 tsp paprika
2 tsp garlic powder
1 tsp ground mustard
salt and pepper to taste



Directions
Prepare pasta. Drain and return to the pot. Throw in all of the ingredients and mix together well. Done.