Sheesh. Last week kicked my butt. I am here, now, to
ketchup
on last week's posts all in one.
Two for Tuesday: Long Beach Vegan Eatery
I skipped out on Dan Tuesday to check out the new
Long Beach Vegan Eatery.
I am so excited to have this option in Long Beach, which up until recently has had no strictly vegan restaraunts. (Now there are 3!) And after reading about their mission to have vegan "stick to your ribs" comfort food...well, if you know anything about me, well then you know that this is my kind of menu. I was there on the 2nd day of their soft opening. (I don't think they've had their official "Grand Opening" yet). I got the California Chick'n Sandwich and Sweet Potato Tots. Yes. Sweet. Potato. Tots.
California Chick'n Sandwich and Sweet Potato Tots from Long Beach Vegan Eatery
After having a chance to chat with Jeff (owner/operator) a few days later, he was excited to report that a lot of the early kinks have all been worked out, and each day just keeps getting busier and busier. How awesome is that? I can't wait to go back and have to wait in a really long line. I am always eager to wait in line at a vegan establishment. It really warms my heart.
Worknight Wednesday: Red "Meat" Lasagna
This one goes all the way back to
500 Vegan Recipes
. But it is a classic. And definitely makes enough to have leftovers for the rest of the week.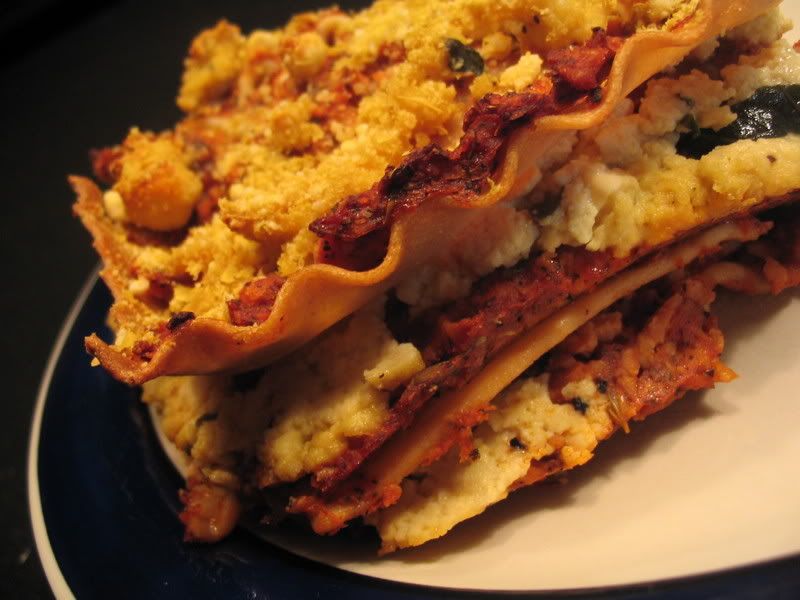 Red "Meat" Lasagna
For the Lasagna:
12 uncooked lasagna noodles
1 recipe Meaty Marinara (BELOW)
1 recipe Tofu Ricotta (BELOW)
2 tablespoons (15 g) nutritional yeast
2 tablespoons (14 g) ground cashews or ground walnuts
Preheat oven to 375°F (190°C, or gas mark 5).
A quick note before assembling the lasagna: be sure to keep some sauce and ricotta to apply at the very top of the lasagna. You will have 4 layers of pasta in all, so divide each ingredient accordingly.
In a square
8-inch (20-cm)
or
9-inch (23-cm)
baking dish, start with a thin layer of sauce, add three noodles in a single layer, add another layer of meat sauce, then a layer of tofu ricotta another layer of noodles.
Repeat until you get to four layers of noodles.
Top with a final light layer of sauce and ricotta and then sprinkle with nutritional yeast and cashews or walnuts.
Bake, uncovered, for 30 to 40 minutes, or until the top is beginning to brown and your noodles are nice and tender.
Let stand for at least 15 minutes before serving, so that the portions don't fall apart when cut.
For the Meaty Marinara:
28 ounces (784 g) canned diced tomatoes with the juice, no salt added
8 ounces (227 g) tomato sauce
6 ounces (170 g) tomato paste
1 tablespoon (2 g) dried basil, or 3 tablespoons (9 g) fresh, chopped
1 tablespoon (13 g) granulated sugar
1 tablespoon (22 g) molasses
2 tablespoons (30 ml) extra-virgin olive oil
6 cloves (or one head) garlic, minced
1 cup (160 g) finely diced white or yellow onion
1 1/4 cups (120 g) TVP granules (textured vegetable protein)
Place tomatoes, sauce, tomato paste, basil, sugar, and molasses in a large stock pot. Bring to a simmer on medium-low heat.
Meanwhile, in a skillet place the olive oil, garlic and onions and sauté until garlic is fragrant and onions are translucent, about 10 minutes. Add garlic and onions to the pot. Cover and continue to simmer for 20 more minutes. Uncover and simmer for ten more minutes. Stir in TVP, cover and let sit for ten minutes.
For the Tofu Ricotta:
14 ounces (397 g) extra firm tofu, drained & pressed
1/4 cup (35 g) raw cashews, finely ground
1/4 cup (30 g) nutritional yeast
3 tablespoons (45 ml) extra-virgin olive oil
2 tablespoons (6 g) finely chopped fresh basil, or 1 tablespoon (2 g) dried
Salt and pepper to taste
After you have drained and pressed your tofu very well, crumble it into a bowl until it resembles ricotta.
Add in all the other ingredients and mix together with your hands.
Store in an airtight container in the fridge. Should keep at least a week.
Thoughtful Thursdays: Green is the New Red by Will Potter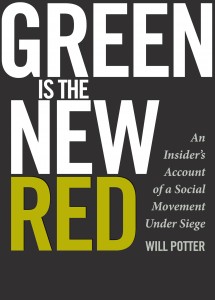 Green is the New Red by Will Potter
I bought this book at
Food Fight Grocery
when I was in Portland, Oregon for
Vida Vegan Con
in August. It was a very eye opening read. I've been fired up ever since. If you are vegan, vegetarian, or even just someone who cares about our planet,
YOU MUST READ THIS BOOK
. Rather than tell you what I liked about this book, I am going to tell you what I didn't like. The truth. I don't like it. I will be honest with y'all. I have been a naive person. I trusted too easily and had too much faith in things I didn't fully understand. No more. Will Potter's book has taught me that our laws are not there to protect us. They are there to support the money, and those that have it. It is timely that I read this book just before the "Occupy" movement began, because, man, I am really down with the 99%, of which I, my family, and virtually everyone I know is a part of. I am not going to get to philosophical, political, or opinionated here, because afterall, this is a blog about great vegan food, but please read this book,
check out the website
, and
GET FIRED UP!
Freedom Fridays: Pizza and Beer
Going out to dinner with my dad can often present a problem. One would think that if 2 of your daughter's are vegan you might be a little bit more open minded when it comes to trying new things. Yeah, well, no. Not my dad. So we often end up in uninspried chain restaraunts or a pizza joint. Pizza is pretty easy for me. No cheese. done. So that's what we did on Friday. Spent a couple of hours with my dad, his wife, Laura, and Dan. Noshing on cheeseless pizza, and sipping on beer.
Wonderful Weekends: A Very Lazy Saturday Spent on the Couch watching Lifetime Movies, and Avoiding any of my Real Responsibilities
Well, that pretty much sums up my weekend. Today I head out to work. It is my last day in Venice. So it will be a bittersweet day. I will miss my Venice peeps, but I will not miss that drive!