I couldn't help but to share this one with all of you. I hope the testers don't get mad at me!
I have been working this one out for a long time. I am very excited about it. There are many additions and substitutions you can make to this to really make it your own. Here is the basic recipe with no alterations. I will put in notes some of the alterations I think are cool, but of course, you guys are way cooler than me anyhow and can probably come up with cooler subs. For instance, I use white rice for a base because sticky white rice is what I think of when I think of Chinese take-out. But you can use brown rice instead.
Serving Suggestion:
Serve with any of the traditional take-out sides. Chow mein, sweet and sour tofu, won tons...you get the picture.
For the Glaze:
1 1/2 cups water
2 tablespoons orange juice
1/4 cup lemon juice
1/3 cup rice vinegar (in a pinch you can sub 2 tbsp apple cider vinegar)
2 1/2 tbsp soy sauce
1 tbsp grated orange zest, or 1 tsp orange extract
1 cup tightly packed brown sugar
1/2 tsp freshly minces ginger root (or 1/4 tsp powdered)
1 tsp minced garlic
1/2 tsp red pepper flakes
3 tbsp cornstarch mixed with 2 tbsp water to create a slurry
Mix all ingredients, except cornstarch slurry, in a sauce pan and bring to a boil, stirring occasionally. After it comes to a boil, reduce to a simmer and slowly add in the cornstarch mixture and continue to stir as it thickens. Lower heat to keep warm. You won't need the glaze until the end.
For the Patties:
2 cups fully cooked white rice (you can use any rice you want to, really)
8 oz plain soy tempeh, crumbled almost to individual beans
1/2 cup chickpea or besan flour (you can probably use plain old all purpose here to, but I like the flavor of the chickpea flour here)
1 tbsp orange zest or 1 tsp orange extract.
(You can add all sorts of stuff here. Maybe peas, carrots, red peppers, you know whatever you would find in take-out fried rice!)
Mix together all ingredients, with your hands. Squeeze and knead and press it all together until it becomes very sticky. Form into patties.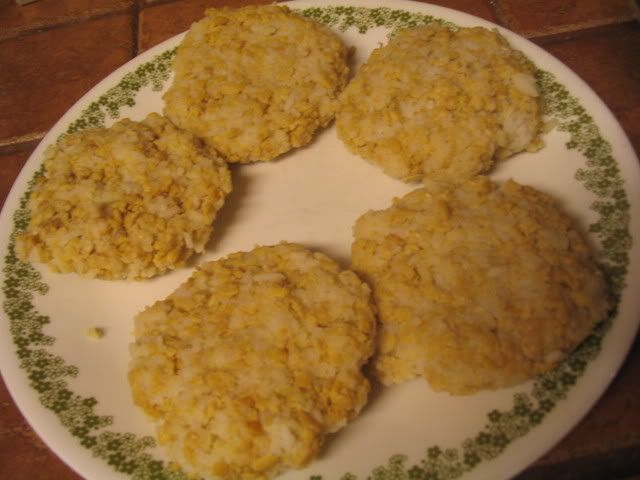 For the Coating:
1 cup chickpea flour
1/2 cup non-dairy milk
Panko style bread crumbs
Oil for frying
Mix together the flour and milk in a bowl. Set up a workstation...Patties, batter, breadcrumbs, frying pan with oil heated and ready.

Coat each patty with the flour and milk mixture and then coat with bread crumbs. Place in the frying pan and fry until golden and crispy on each side.
Remove from oil and dip into glaze to generously coat it on both sides.
Serve on a bun or on a bed of greens!
Yield:
6 burgers