Try this healthy side dish instead of Mexican Rice with your next Mex-style dinner. It tastes good cold too!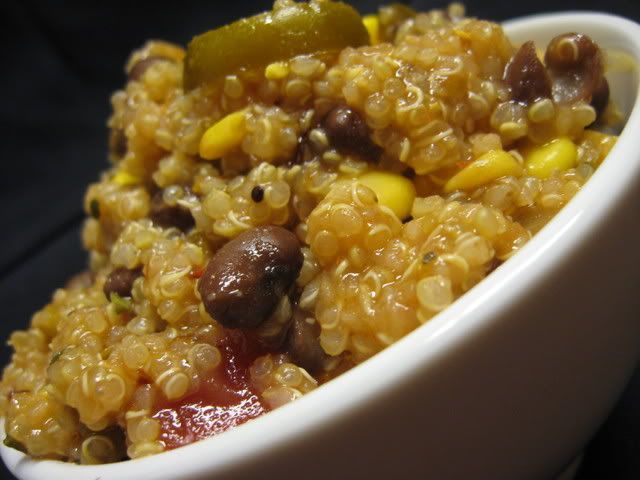 MexiQuinoa is an awesome alternative to Spanish Rice!
MexiQuinoa
Ingredients
(makes about 8 servings)
2 cups dry quinoa
4 cups water
15 oz can of corn (about 2 cups), drained
15 oz can of black beans (pinto would work well too), drained
4 oz can of nacho sliced jalapenos, drained
1 cup chunky salsa, of choice
2 tbsp olive oil
1 tbsp lemon juice (or lime juice)
1/4 tsp cumin
1 tsp garlic powder
1 tsp onion powder
1 tsp red pepper flakes
1 tsp dried oregeno (or 1 tbsp fresh)
Salt and Pepper to taste
Optional add-ins:
1/2 cup diced bell pepper
1/2 cup finely diced red onion
1/4 cup finely chopped cilantro
extra chopped tomatoes
Directions
In a sauce pot, bring water to boil. Add quinoa, return to boil, then reduce heat and cover to cook, about 10-12 minutes, or until all the water has been absorbed. Remove from Heat. Fluff with a fork, cover and let sit another ten minutes. While quinoa is cooking you can mix all the other ingredients together in a large bowl. When quinoa is ready, mix it into the other ingredients and serve. Tastes great as a hot dish, but even better the next day after all of the flavors have really melded together!
Yield:
8 Servings