I don't even know where to begin...Sitting here in Southern California, my mind keeps wandering. "Why can't I go get a Hemp Milk Latte and Bagel with Bacun Scallion Schmear from Sweetpea this morning?"
I do apologize for the lack of photos I took on this trip. I was so overwhelmed with deliciousness, that grabbing my camera was the last thing on my mind! I have provided links, when available, to the places I visited, and most of their websites have photos or descriptions of the food.
The Lowdown on My Vegan Eats in Portland:
Sweetpea Baking Company
Other than a couple of detours to
Junior's
and
Wild Abandon
for breakfast, I spent most of my mornings, and some afternoons at Sweetpea. The Everything Bagels were some of the best bagels I've ever had, so soft and chewy and fresh, just as a perfect bagel should be. The Lattes were also perfect, and being a barista myself, that is a huge compliment to Aaron, who made the majority of my coffee drinks. Perfect foam, perfect creaminess factor, and his suggestion that I do half rice milk and half hemp milk, was a winning one. I also had a Raspberry Linzer which was fantastic. Saturday mornings are reserved for fresh raised yeast doughnuts. We got there just as they were placing fresh glazed, chocolate and chico-stick, and custard filled doughnuts into the bakery case. Mmmm. Doughnuts. Warm and fresh, and light and sweet. John and Katie (and the others that I am sure helped to make the doughnuts) knocked these ones right out of the ballpark. They really hit the spot, as it was our last taste of Portland before we hit the road to head home. Celine and I picked up 4 premade sandwiches and 2 pizza rolls for our drive home as well. Unfortunately, they got really soggy in the cooler, so I don't feel as though I can give them a fair review. Although I can say that $4.50 for a vegan deli sandwich is a great price. I'll try again next time. Aside from the food, Sweetpea also offers a friendly atmosphere where you can sit and enjoy a coffee, all the while, the bakers and baristas will come and take their breaks alongside you and chat about whatever is on their minds. Like a vegan
Cheers
, where everyone knows your name.
Junior's Cafe
Junior's is a greasy spoon diner that I have to visit each time I visit Portland. Not a vegan joint, per se, it does have a decent selection of vegan options for breakfast. I really appreciate the decor in this place as it reminds me of a lot of the dive cafes here in Southern California that I so adore. This time around I ordered a big ol' plate of breakfast potatoes (the exact name of the dish escapes me at the moment), with added vegan sausage, topped with spicy tofu sauce. Killer. I added extra hot sauce and I was in breakfast potato heaven. My coffee cup was always full, and the waitress was friendly and courteous. The prices are very fair, and as I said before, the atmosphere is very laid back.
Wild Abandon
This dark cavernous joint boasted velvet-esque wallpaper and arms sticking out of the wall to hold up the curtains. LOVE IT! There is a large outside dining patio for those who prefer dining al fresco, but I am the kind of person who really likes to sit inside when I am eating hot food. A sandwich and salad is nice outside, but hot breakfast? Inside for me, thanks. This place really has the vibe of a bar, more than a restaraunt, but alas, no bar in sight. It was really comfortable, and the vegan selection was big enough so that our entire table could order something different. I ordered "The Ox" A burrito with vegetables, garlic, baked tofu, black beans, and potatoes. Topped with salsa, guacamole, and cilantro. $8 Add vegan sausage $11. I added the sausage. Very good. Very big. Very, very, big!
Vita Cafe
On my first trip to Portland I visited this restaurant, and was eager to come back. Since my last visit, the cafe has relocated accross the street, but they brought along their plywood booths, which I find adorable. The new locale is much fancier than the old one, but the menu seemed the same. I opted for a green side salad with vegan ranch, a big bowl of Mac'n'Cheese with broccoli, and a large basket of seasoned fries for the table to share. The food was good, and the atmosphere nice. The waitress was very patient and friendly, seeing as we stayed way past closing time without even realizing it, and she didn't say a word.
Proper Eats
Probably one of my favorite meals on our entire trip. Proper Eats is a natural foods market and cafe in the St. Johns district of Portland. There were 6 of us, Celine, myself, June, Kurt, Amy and Tim, and we were seated at a very large table in the dark and comfortable dining room.
I ordered a Tempeh Reuben, $8, Marinated tempeh, baked and served on Dave's Rye bread with caramelized onions, local kraut and a vegan reuben sauce. Served with a small salad. It was so good. The kraut was my favorite part. It was crunchy, not soggy, and tart without being too vinegar-y. So good that I actually took a picture!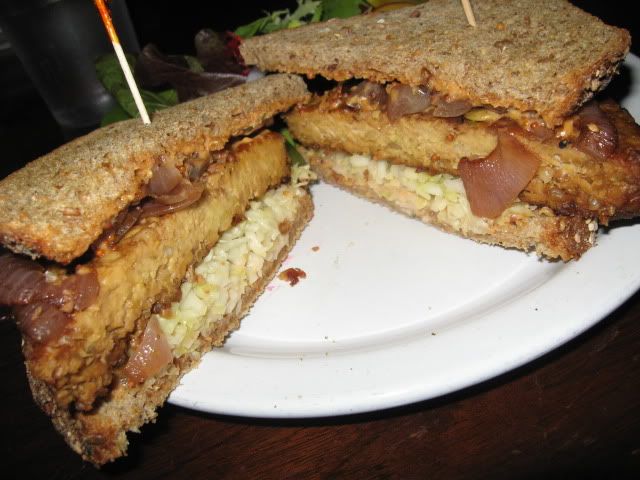 Hungry Tiger Too
I cannot say enough about this place. Is it a bar? Is it a restaraunt? It's both. It's dark and grungy like a bar should be. It has outside dining in the front for those who want to sit in a quieter area, or even bring along the kids (before 7pm.) There is a huge patio in the back, and the inside is quite large as well. On Wednesday nights they have $1 Corndogs and PBRs. What? $1 vegan corndogs? I was so on it. I love loud bars and crazy crowds, but if that type of scene isn't up your alley, I suggest you don't come here on Wednesday nights. The poor waitress was a bit overwhelmed by our table of 10 crammed into a table for 4! Bless her heart, she got all of our orders right. Because, not only do they serve corndogs, but they have an entire vegan menu. I noshed my little heart out on a veggie burger known as the "BellyRocker" alongside some coleslaw and, of course, a corndog. Everything was great, but what stood out especially was the focaccia bread used instead of buns on the burger. Very gourmet for bar food. One other thing...I feared I had lost my wallet in this place, and it was turned in by some lovely girl. It had over $200 in cash, my ID and CC's in it. Thank you whoever you are. You are proof that good people still exist in this world, or at least in Portland! Click
HERE
for a post containing another review and lots of pictures of the food!
Bye and Bye
A completely vegan bar? No wonder this place is always packed. There was a
PPK
meet up on Thursday night. Such fun. We opted to sit in the back patio, as the weather was hot, and the patio was shaded.
Joanna
suggested I have a Bye and Bye, the bar's signature drink. It was served up in a huge mason Jar. It's ingredients are unbeknownst to me, but I hear there's whiskey and peach vodka in there. Along with possibly some cranberry and lemon, it tasted like a pink lemonade. Very tasty and refreshing on a hot summer evening!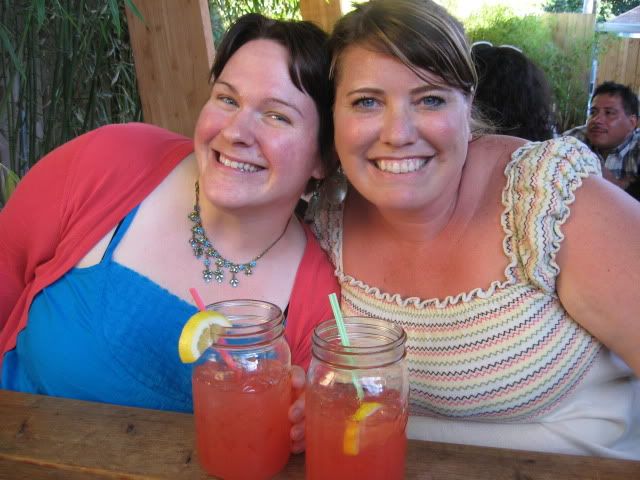 One Bye and Bye became two, and two became three. Uh oh, better order something to eat! I had heard great things about the brussel sprout bowl, but alas they had run out of brussel sprouts! If that doesn't say something about Portlanders, when a BAR runs out of brussel sprouts! So, I opted for a grilled cheese with avocado and tomato. Totally hit the spot. This place is the quintessential vegan hang out. If I lived up here, I would definitely make sure I lived in NE, within walking distance of this place.
Dove Vivi
The first place we hit up when we got into town. There are 2 vegan pizza options, and they both are served up on an amazing cornmeal crust. (It is now the mission of Celine and I to recreate this crust!) We ordered up the Della Salute AND the Corn Cashew and added the optional Herbed Tofu Ricotta. EXCELLENT! Between the 4 of us, there were only 2 pieces left. Good Pizza with a nice atmosphere to boot.
People and Places I visited (other than Restaurants):
June and Kurt
Our wonderful hosts for the week.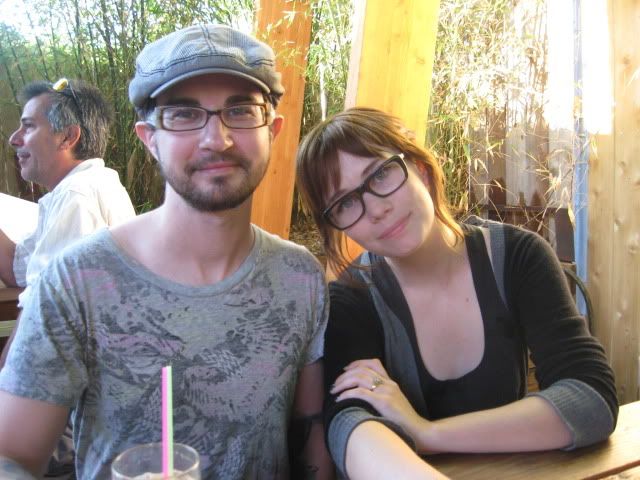 Am I lucky or what? Although I can honestly say, I would never move to Portland, (I like living in the country too much, and Portland is just a tad too busy for my tastes) having a vegan sister, who happens to be engaged to a vegan, makes my visiting Portland so easy. They already know the coolest places to eat, and are able to make suggestions on what to order. I really love my sister, and Kurt, I love you too!
Food Fight Grocery
Located in the Vegan Mini Mall, this little market offers up what many refer to as vegan junk food. I think of this place like a vegan 7-11. A lot of stuff in a tiny store. I'm lucky enough to live in an area where I can get my hands on most of the stuff available here, so I stuck to buying locally made products that I can't get at home, along with some vegan propaganda.
Herbivore
Any self respecting vegan owns at least one Herbivore t-shirt. Also located in the vegan mini mall, this awesome store sports clothing, accessories, books, and yes, more vegan propaganda. I picked up the most adorable Cowhugger wallet (and I am convinced that it was the fact that it was an Herbivore wallet, that someone returned it to me at the Tiger) some postcards, and some buttons. I already have a few shirts and patches and hats that I've purchased from the online store. Go buy yourself something.
The Meadow
This little store on Mississippi Street is a culinary dream. Hundreds of types of high quality finishing salts! I picked up 7 different varieties, but I am sure I will be visiting their website for more soon.
The Parlour
If you know me, you know I hate to do anything with my hair. I hate to brush it, I hate to wash it, I hate to style it. My last haircut was almost a year ago, and I only did that because I didn't feel like washing it myself. So I wandered into a small salon and asked for a cheap shampoo and trim. Celine and I were scheduled to do a filming for
Everyday Dish TV
on Thursday, so we figured we may as well schedule a hair appointment so we'd look fab for the taping. June recommended Jamie, at the Parlour. She was super accommodating and gave us both the best haircuts we had ever had. It is a vegan salon, and sits on a cute corner, which apears to have been an automotive center converted into a pizza parlor, the salon, and a massage therapy studio. The ambience is fantastic, and with the garage door opened up, the fresh air breeze is a nice change from the traditional chemical smell of a salon. Upstairs is a tattoo parlor, below is the hair salon.
Other Vegans
Julie, Jay,
Amy
(Thanks so much for the Cherry Jam, I can't wait to eat it all up!) , Tim, John, Jamie, Jess,
Kris
(Thanks a million for the adorable buttons!), Joanna, Aaron, Katie, Ollie and the rest of you that I met and can't remember right this minute, thanks for making us feel welcome. I can't wait to find you all on facebook and twitter so we can keep in touch!
And a special thanks to miss
Celine Steen
for being an amazing travel partner, and, of course, good friend!