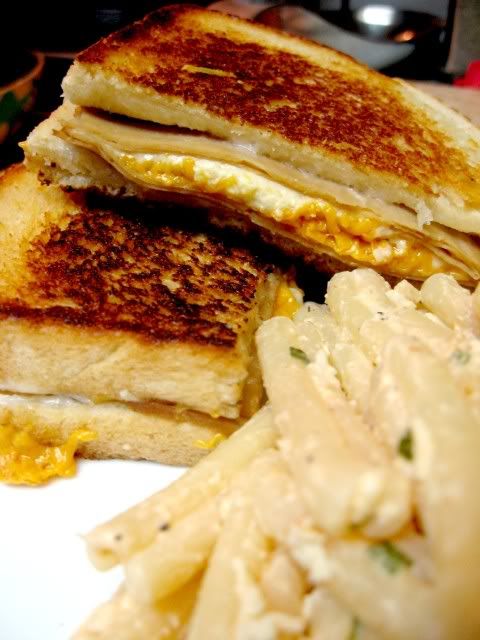 Okay, Okay. I took all of your advice and decided to give Tofurkey Deli Style Slices a try. This grilled sammy features the "Hickory Smoked" flavor (pretty good!), some Vegenaise, and...
...DAIYA Shredded Cheese!
Maybe you've heard of the stuff? Southern California Whole Foods Markets have rolled this out as an ingredient on their vegan pizzas. The product was so successful that the Specialty department (cheese and wine) decided to start selling it by the pound. My little
Whole Foods in Laguna Beach
doesn't have a pizza kitchen, so I was excited to get to buy it to try out on my own. It retails for $9.99 per pound around here, and I got a pretty decent amount for about $5. I bought both the white (Italian Style) and the yellow (Cheddar Style) and honestly, I couldn't really tell the difference between the two taste wise, but, guess what? IT MELTS AND STRETCHES!!! And it tastes pretty good to boot.
If you are wondering, on the side there, is a pasta salad, thrown together with some Vegenaise, Sri Racha hot sauce, green onions, pimiento, some of the white Daiya, garlic, onion, salt and pepper.