I was given the task of creating "culinary delights" for a fundraiser the other night. I decided on cookies and cakes. Who doesn't love cookies and cakes? I made
Lemon Poppyseed Cakes
,
Espresso Chocolate Chip Cakes
, and Cherry Oatmeal Chocolate Chip Cookies.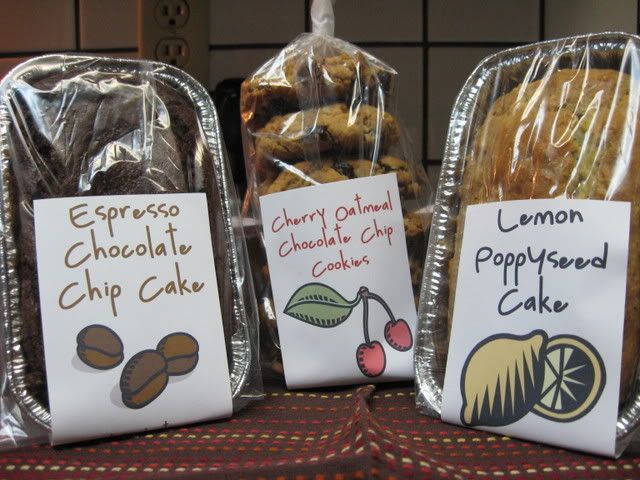 Close up of the cookies:
Here's the recipe for the cookies:
Cherry Oatmeal Chocolate Chip Cookies

Ingredients

(makes 2 dozen)Wet Ingredients
1 cup margarine, softened
3/4 cup sugar
3/4 cup brown sugar
1/4 cup agave nectar
6 oz vanilla soy yogurt
1 tsp vanilla
Dry Ingredients
1 cup all purpose flour
1 cup coconut flour (Bob's Red Mill makes this, and it is AMAZING!)
1 cup dry quick cooking oats
1 tsp baking soda
1 tsp baking powder
1/2 tsp salt
Add Ins
1 cup dried cherries
1 cup chocolate chips
1/2 cup shredded coconut
Directions
Preheat oven to 350. In a large mixing bowl, mix together all wet ingredients. In a seperate bowl mix together all dry ingredients. Add dry to wet and mix well. Fold in the add ins. Form into balls using about 1/3 cup of dough per ball, slightly flatten and place on a cookie sheet lined with parchment, or a silicone mat, about 2 inches a part. I get about 8 per sheet) bake for 12-15 minutes, or until lightly browned. Allow to cool completely before removing from cookie sheet.