Happy Birthday Mommy!
I sent her cookies for her birthday: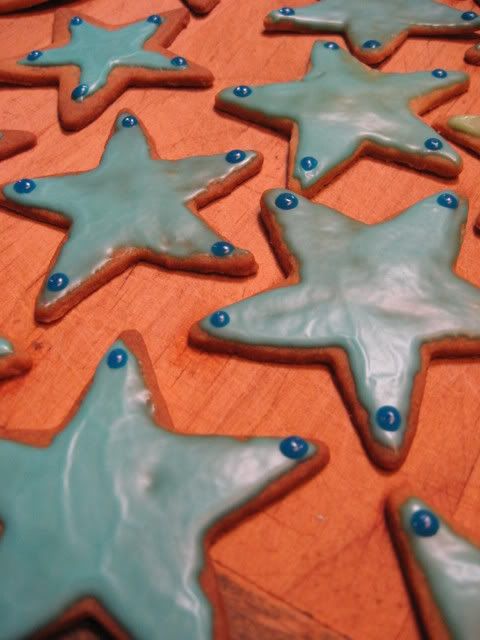 And she sent me an email, assuring me that they arrived in Tehachapi, only one broken:

SEE MOM! FOOD PORN IS ADDICTING!
(Her plate even matches the cookies!)
Lemon Sand Tarts
Ingredients
2 sticks margarine (I use Earth Balance Buttery Sticks)
1 cup sugar
1/4 cup soy yogurt (Vanilla, plain or lemon)
2 tsp vanilla
1 tsp lemon extract
3 cups flour
2 tsp baking powder
1/2 tsp salt
Directions
With an electric mixer, cream together margarine and sugar until fluffy. Add yougurt, vanilla and lemon extracts. Sift in flour, baking soda and salt. Mix until well combined. Divide into 4 equal pieces, and refrigerate at least one hour. Preheat oven to 350 degrees. Roll out dough onto a well floured surface and cut into desired shapes. Bake on a nonstick baking sheet (or line with parchment or a silicone baking mat) for 10-12 minutes. Remove from oven, let cool 5 minutes, transfer to cooling racks to cool completely.
For the Icing

Ingredients
3 cups confectioner's sugar (powdered)
3 tbsp soy milk
1 tsp vanilla
1 tsp lemon extract
Food coloring (optional)
Directions

Whisk or beat together until smooth. Add in color as desired. Apply to completely cool cookies, and let dry to harden completely before packaging.