Another tester from the book!
On an ciabatta bun with Sun Dried Tomato Aioli Vinaigrette and mixed baby greens.
Just check out those grill marks!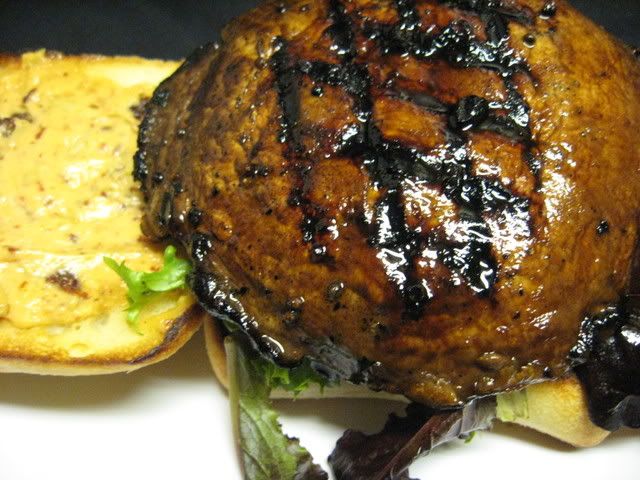 Agave Mustard Balsamic Vinaigrette Grilled Portobello Burgers
Ingredients
4 portobello mushroom caps
1/2 cup olive oil
1/4 cup balsamic vinegar
3 tbsp agave nectar
1 tbsp brown or dijon mustard
1 tbsp whole mustard seeds (toasted*)
Fresh cracked pepper and sea salt to taste
Directions
Whisk everything together in a bowl, makes enough to marinate 4 portobello caps. Marinate for at least twenty minutes. To grill, grill each side for at least 5-7 minutes, turning twice to get the cross hatch grill marks. The sweetness of the marinate carmelizes nicely on the grill. YUM!
*To toast your mustard seeds, use a dry pan or pot with a tight fitting lid. Put the seeds in the pot, cover, and turn on the heat to medium high. Don't go far, it will only take a few seconds for the seeds to start "popping." Once they start popping, turn off the heat...they're done!
Sun Dried Tomato Aioli
This works well on these burgers, and as a sanwich or bagel spread.
Ingredients
2 cloves garlic
1/4 cup sundried tomatoes (about 8 pieces) I use "packed in oil," if you use dry, add about a tbsp of olive oil
1/4 tsp paprika
1/4 cup pine nuts
3/4 cup vegan mayo
salt and pepper to taste
Directions
In a food processor, process garlic, tomatoes and paprika. In a bowl mix in the remaining ingredients. Store in an airtight container in the fridge until ready to use. Makes about 1 1/4 cups.