Because one cannot live on veggie burgers alone!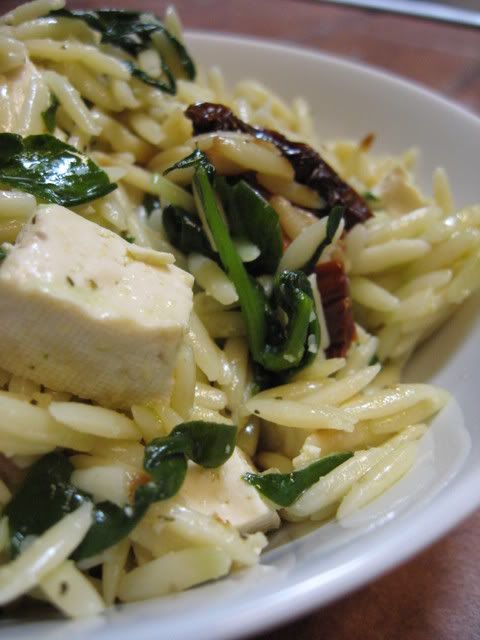 Do you shop at Whole Foods Market? If so, you have probably perused the deli counter, drooling over the amazing vegan salads that they offer, and then seeing the ones you can't have because of one stupid ingredient that makes it not vegan! This is one of those salads. At Whole Foods, this salad contains HUGE chunks of feta cheese. I replaced the feta with tofu, and voilla, a vegan version that tastes yummy hot or cold.
Truth be told, I wasn't planning on making a recipe out of this, so I didn't write down any measurements, but I can tell you everything I mixed in, and you can add or take out anything you like to make it your very own yummy salad.
Ingredients I used:
1 pound of Orzo, prepared in salted water according to package instructions
1 block of extra firm tofu, drained and pressed and cubed*
Olive oil, I probably used about 1/4 cup for the whole thing
Sundried tomatoes, chopped up
Fresh Spinach, Chiffonade
Garlic
Onion powder
Basil
Kalamata olives, pitted and chopped
Salt and pepper to taste.
Prepare the orzo, drain, and then add in all of the other ingredients, and mix well. Serve hot or cold.
*If you have a favorite tofu feta recipe, use that.