Okay, I made a few improvements to the recipe...omitted the ener-g, 'cause I know how you guys hate it when I put that in recipes, and I think this cake is so dang tasty! The recipe makes a lot...since I'm making these in bulk. It makes 6 mini loaves.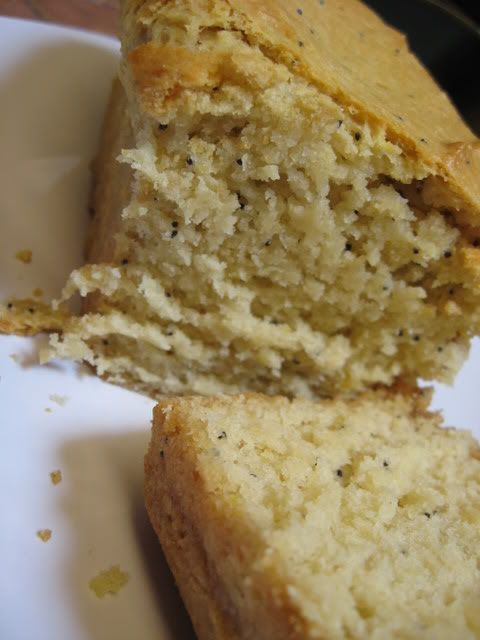 Wet Ingredients:
12 oz (2 containers) of lemon soy yogurt (plain or vanilla will work too)
1 cup soymilk (plain or vanilla)
1 cup canola oil
2 cups sugar
1 tbsp vanilla extract
1 tsp lemon extract
zest of one lemon
juice of one lemon
1/2 cup vegan sour cream
2 tbsp poppy seeds
Dry Ingredients:
5 cups all purpose flour
3 tbsp cornstarch
1 tbsp Baking powder
1 tbsp baking soda
1 tsp salt
Directions:
Preheat oven to 350 degrees. In a large mixing bowl, mix together the wet ingredients. In a seperate bowl, sift together the dry. Add the dry to the wet and mix together. The mix is thick, not runny. Fill your loaf pans about 2/3 full. Bake about 45 minutes or until a toothpick inserted in the center comes out clean.