Just in time for Valentine's Day. I plan on passing these out tomorrow to cclients and coworkers. I even wrapped some individual pieces to hand out as mini-gifts. This cake is really moist and gooey and rich. Make sure to have a nice tall glass of soymilk close by while you eat it.
An army of mini cakes:
Inside Shot:
All wrapped up and ready to go (Note, sticker paper does not stick to parchment!)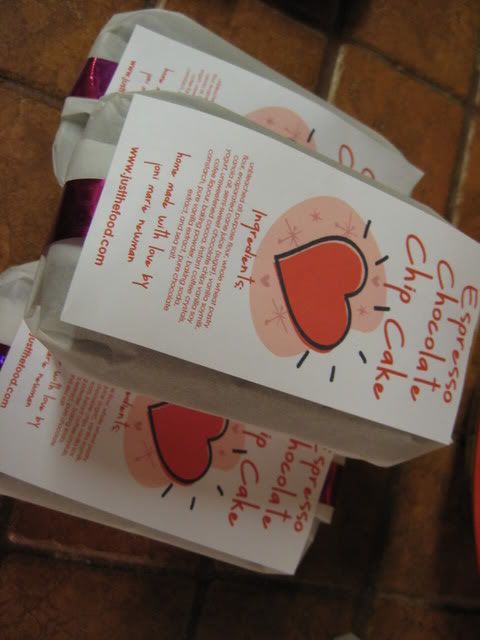 Individual pieces:
Here's a label you can print out if you want to make your own: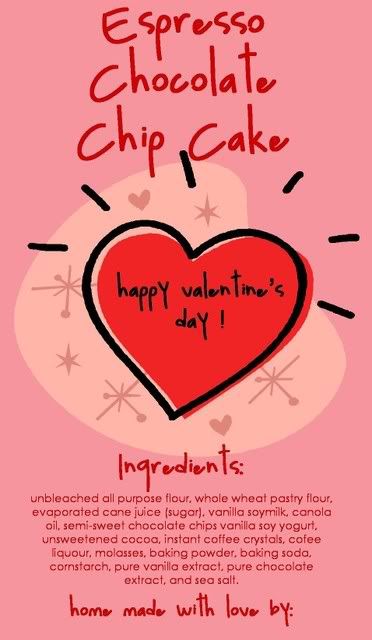 Espresso Chocolate Chip Cake
(makes 6 mini loaves)
Wet Ingredients:
6 oz vanilla soy yogurt (or plain)
1 cup canola oil
1 tbsp vanilla extract
1 tbsp chocolate extract (or more vanilla)
2 cups sugar
2 tbsp molasses
1/2 cup coffee flavored liquour
1 cup soymilk (vanilla or plain)
1/2 cup instant coffee crystals
Dry Ingredients:
3 1/2 cups all purpose flour
1 cup whole wheat pastry flour
1/2 cup cocoa powder
2 tsp baking powder
2 tsp baking soda
2 tbsp cornstarch
1 tsp salt
1 1/2 cups chocolate chips
Directions
Preheat oven to 350. In a large bowl, mix together all wet ingredients. In a seperate bowl sift together all dry ingredients, except chocolate chips. Add dry to wet, mix well. Fold in chocolate chips. Fill mini loaf tins 2/3 full. Bake at 350 for 30-45 minutes, or until a toothpick inserted into the center comes out clean.