Well, hello there! It's been a while, I know.
Celine
and I have been feverishly working on and testing for 500 Vegan Recipes, and oh boy, are there some awesome foods coming out of our test kitchens!
Check out the pictures over on the flickr pool.
I thought I'd share one of those 500 with you guys, after all I haven't posted a new recipe here in almost a month!
This is actually two recipes in one. This dough makes an awesome cast iron deep dish pizza, but more interestingly, it makes virtually indestructible bread bowls for soup! One of the testers stress tested a bread bowl with five bowls of soup and reported absolutely no leakage. I don't necessarily recommend eating five bowls of soup in one sitting, but you can rest assured that you will safely make it through one or two!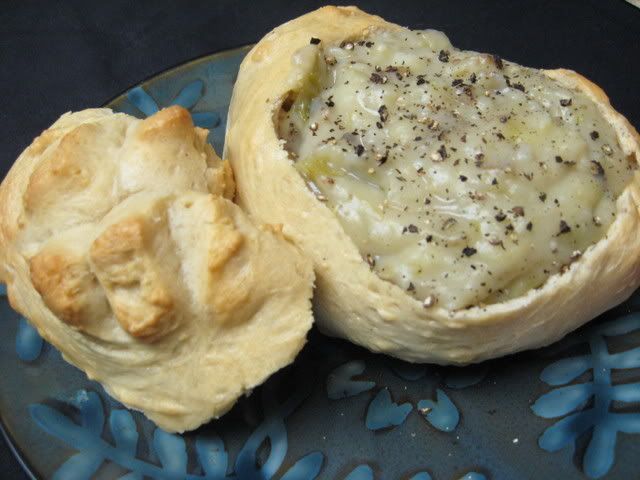 Home Made Bread Bowl filled with Rustic Potato Leek Soup
Deep Dish Cast Iron Pizza topped with Bechamel, Basil and Tomatoes
1/4 ounce (1 packet) active dry yeast
1 teaspoon sugar
1/2 cup warm water
2 cups all purpose flour
1/2 cup vital wheat gluten flour
1/2 teaspoon salt
1/2 cup water
1 tablespoon olive oil
additional olive oil
Mix together yeast, sugar and warm water. Let stand ten minutes. In a mixing bowl, mix together flours and salt. Add in yeast mixture, water and olive oil. Adding more all purpose flour if too wet, more water if too dry, a little bit at a time. Your goal is a soft elastic dough ball that is easy to handle and not sticky. Knead for about 10 minutes. Divide into two, form into a ball. Brush with a light coat of olive oil, cover with plastic wrap and let rise for one hour.
Preheat oven to 500 degrees. Punch down the dough, knead an additional 2-3 minutes and form into a pizza crust. Bake with your favorite toppings for about 10 minutes, or until crust is a nice golden brown.
Yield:2, 10 inch crusts
Note that I made mine in a cast iron skillet and my husband made his on a cookie sheet. They both cooked for the same amount of time, but he pressed his out much thinner so he got about a twelve incher, while mine was only about 9 inches. Both yielded excellent results.
Bread Bowl Variation
I made up a double batch of this dough. With the remaining two pieces, I formed them into balls (skipping the second knead), cut a few slits across the top, baked at 400 for 15 minutes, removed, brushed with nondairy butter, baked an additional 5 minutes…BREAD BOWLS FOR SOUP!