Make the seitan today...make the sandwiches for the big game tomorrow!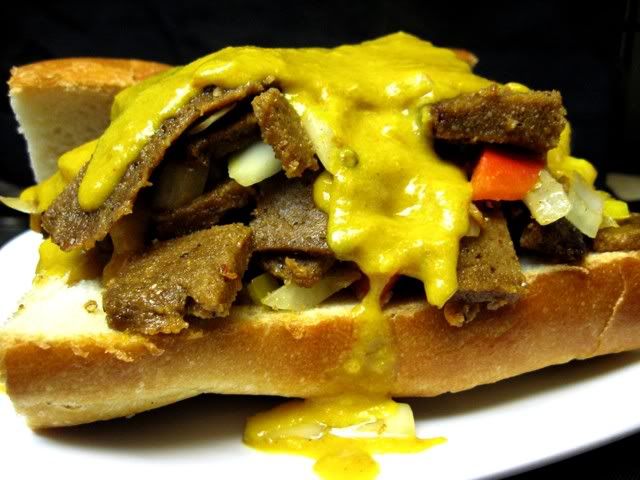 Steeler "Cheezesteak" Sammies
For the Seitan
2 cups vital wheat gluten flour
2 cups whole wheat pastry flour (or whole wheat flour)
1/2 cup nutritional yeast flakes
1 tbsp ground black pepper
1 tbsp onion powder
1 tbsp garlic powder
1 tbsp paprika
1 tbsp cayenne pepper
1 1/2 cups water
2/3 cup olive oil
2/3 cup tamari or soy sauce
1/3 cup ketchup
Preheat oven to 350. Mix all dry ingredients in a large bowl. In a separate bowl, mix together the wet ingredients. Ad wet to dry and incorporate well. Use your hands and knead together the dough. Let sit for about 10 minutes. Divide dough into 2 equal pieces. Maneuver the wet mushy mass into a log shape in the center of a large piece of aluminum foil. Roll it tightly into a log, about 2" in diameter, twisting the ends nice and tight. Repeat with the other piece. Place both logs in the oven, directly on the racks and bake for 90 minutes. Slice into thin pieces, about the size of a stick of gum.
For the Cheezy Sauce
(makes about 2 1/2 cups)
2 cups soy creamer (any kind of faux milk will work, just won't be as thick, just don't use vanilla!)1/2 cup nutritional yeast
1/2 cup raw cashews
1 tbsp tahini
2 tbsp white miso
2 tbsp cornstarch
1 tbsp onion powder
1 tbsp garlic powder
1 tbsp ground mustard
Place all ingredients in a blender or food processor and blend until smooth. Place in a saucepan and on LOW heat, heat until it thickens, constantly stirring so it doesn't get clumpy or scorch.
For the Sandwiches
2 large white onions, sliced or diced (whichever you prefer)
2 red or green or yellow bell peppers, sliced into thin strips or diced (whichever you prefer)
Salt and pepper to taste
Oil for frying
French Rolls
In a large frying pan, preheat about 3 tbsp of oil, you may need to add more later as you cook more, start by sauteeing some of the onions, some of the peppers and some of the seitan...at ratios you like for your sammies. Pile it high on the french rolls and drizzle with cheezy sauce!
GO STEELERS!
(they are playing, right?)